YS-15IRD 15m photoelectric beam sensor
Specification 規格
Voltage:100V/110V/120V/115V/127V/200V/ 220V/230V/231V/240V(AC10~250V),DC10~250V
Action Current:40mA
Sensing Range:15m
Output Contact:3A/125VAC
Size:143x64x61mm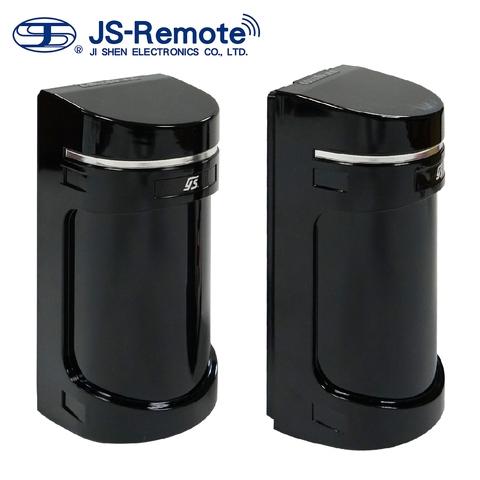 Product Traits
 Protective sensor cover: Made of special material that can prevent rain water from entering the interior and effectively insulates all non-infrared rays which may disturb the efficiency of transmitting and receiving signals.
 Smart electricity sensor and conversion system: When the input voltage falls within the specification range, the systems works normally regardless of the type of electricity input or whether the positive and negative wiring is properly installed.
 Visualization using warning light: Signal light shows the state of the operation process and detection light signals detection of obstruction.
 Receptor cover fall off warning device: External installation that signals removal of the receptor cover or when the cover is not properly sealed.
 Sensitivity setting: Allows adjustment of sensitivity of the detector manually to prevent unnecessary activation by motions from rain, leaves, pets, bugs, etc.
 High reliability: Most of the relay products available on the market come with only 1A/AC125V contacts, but we use high-voltage 3A/125VAC relays to enhance reliability and flexibility.
 Adjustable installation: The angle of the receptor and emitter can be adjusted to focus accurately.
 CE verified: This product is CE verified; quality guaranteed.
 Water and dust proof: Certified with an IP66 rating; prevents dust or water to penetrate the product.