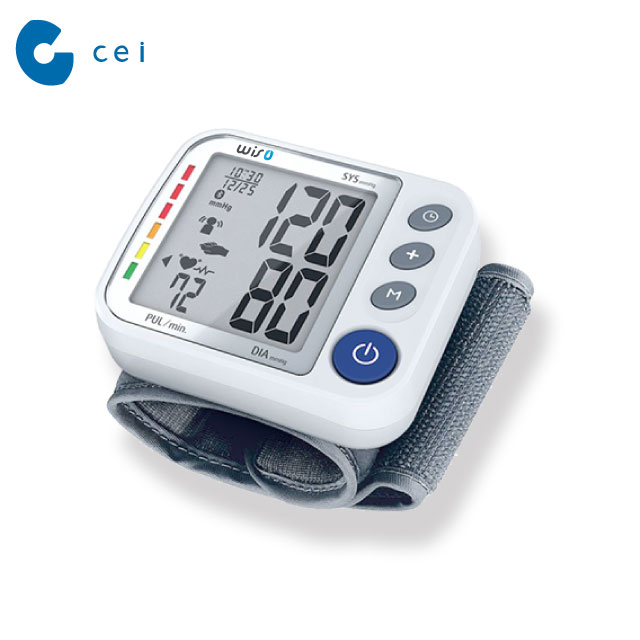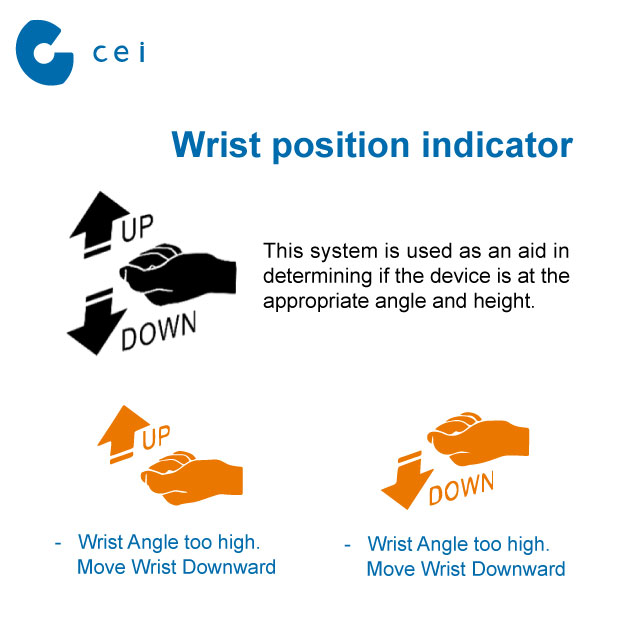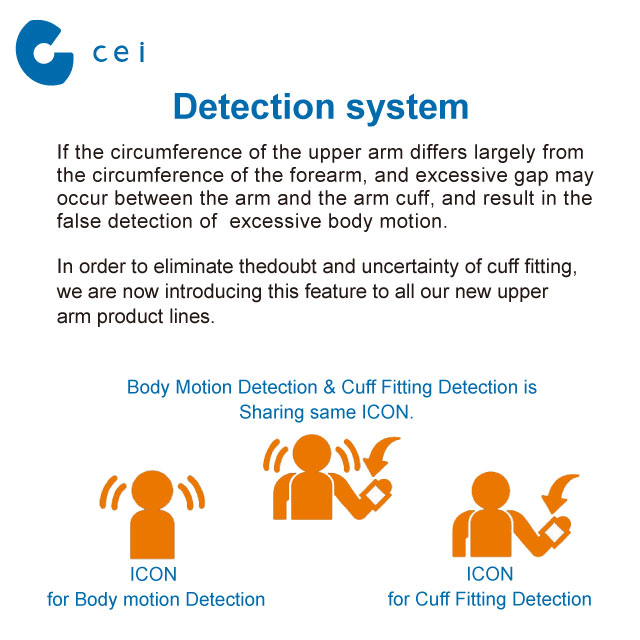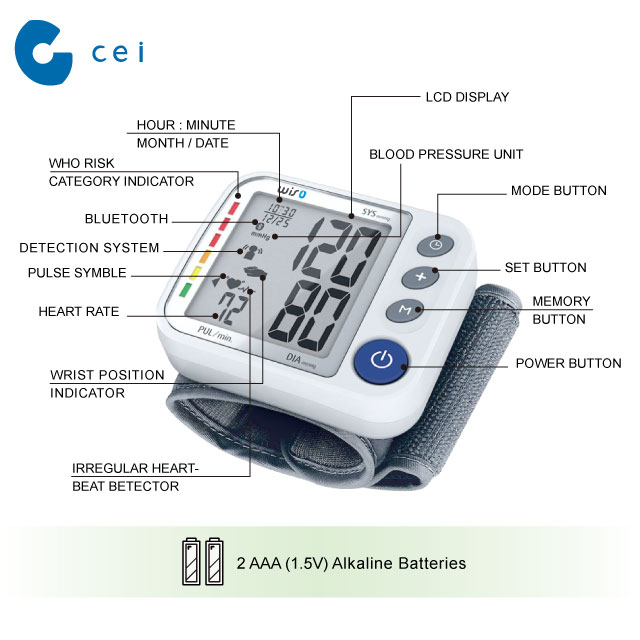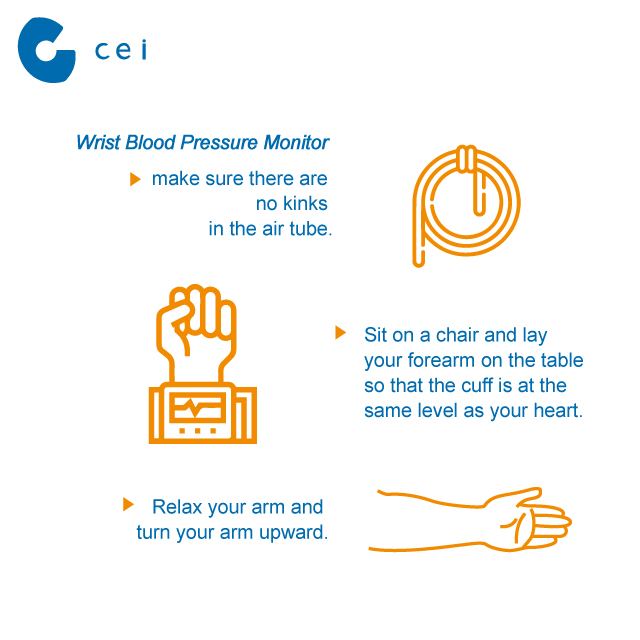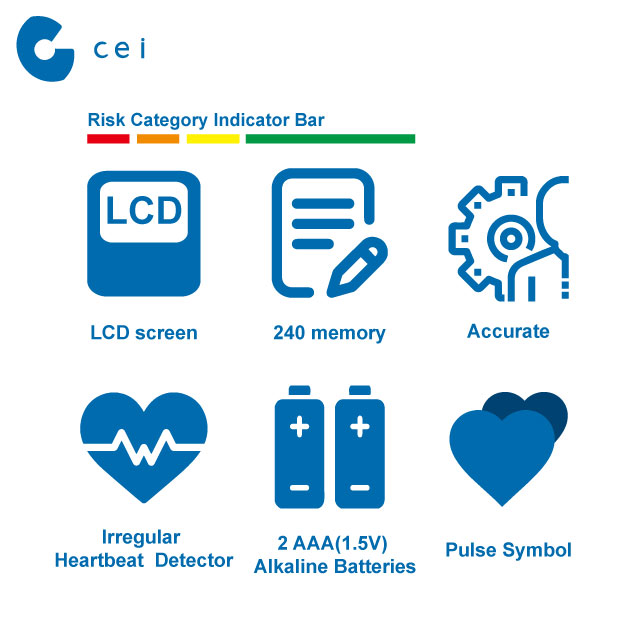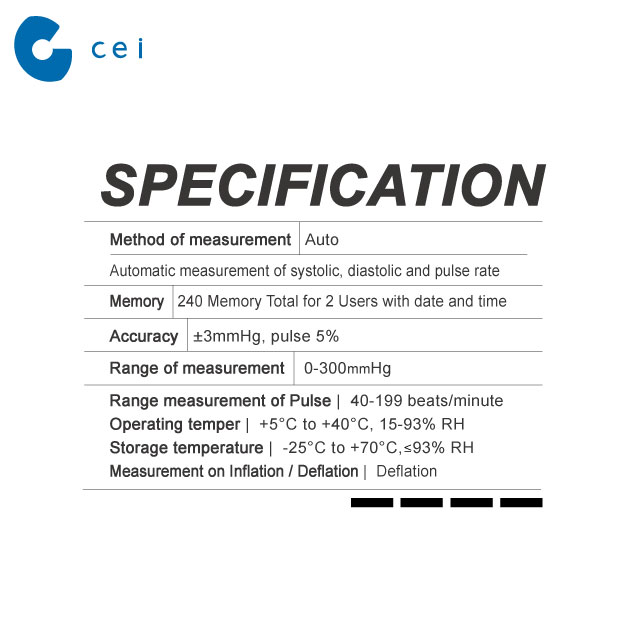 INTRODUCTION
The compact designed of our BP series products ensures users monitoring their blood pressure and heart rate anywhere, from office to on the go. Easy-to-operate feature allows all ages of users checking their blood pressure easily and quickly. Moreover, the ergonomic design of blood pressure cuff ensure the accuracy of blood pressure measurement and comfort of the user.
NEW FUNCTION- DETECTION SYSTEM

If the circumference of the upper arm differs largely from the circumference of the forearm, and excessive gap may occur between the arm and the arm cuff, and result in the false detection of excessive body motion.
In order to eliminate thedoubt and uncertainty of cuff fitting, we are now introducing this feature to all our new upper arm product lines.
FEATURES
Large LCD display

Body Motion Detection & Cuff Fitting Detection

Irregular Heart Beat Warning System

WHO Risk Category Indicator

240 memory total for 2 users

Jumbo Display and start/stop button

Memory with Data and Time

Micro USB (optional)


DC Jack

(optional)
SPECIFICATION

Upper arm automatic measurement

Automatic measurement of systolic, diastolic and pulse

Bluetooth Fuction

Optional

Device Dimension

61.0 x 72.5 x 21.0 mm




Method of measurement

Auto

LCD Backlight

White

Memory

240 Memory Total for 2 users with date and time




Range of measurement

0mmHg to 300mmHg

Range measurement of pulse

40 to 199 beats/minute

Accuracy

+/-3mmHg

Pulse

+/-5%

Irregular Heartbeat Detector

Yes

WHO Risk Category Indicator

Yes

Operating temperature

+50C to +40 0C, 15-93% RH


Storage temperature

-25 0C to +70 0C, ≤ 93% RH


Battery




"AAA" 2pcs Alkaline



ACCESSORIES

Item

QTY

Standard Size Cuff (9"-13")

1

Storage Pouch / Storage Case x 1

1

Batteries (AAA)

2
Blood Pressure Chart for Adults

Systolic (top number) / Diastolic (bottom number)

Blood Pressure Reading

Low

Values (90/60) or less than the figure

You may have low blood pressure.

Ideal blood pressure

Values between (90/60) and (120/80)

Healthy and ideal blood pressure reading.

Pre-high blood pressure

Values between (120/80) and (140/90)

Normal blood pressure reading, but it is considerd to be a bit high.

High blood pressure

Values (140/90) or above

You may have high blood pressure (hypertension), consulting a doctor for further diagnosis.
WHAT IS BLOOD PRESSURE ?
Blood pressure is the measurement of the force of blood pushing against the walls of the arteries. Arterial blood pressure is constantly fluctuating during the course of the cardiac cycle. The highest pressure in the cycle is called the systolic blood pressure, and represents the pressure in the artery when the heart is beating. The lowest pressure is the diastolic blood pressure, and represents the pressure in the artery when the heart is at rest. Both the systolic and the diastolic pressure are necessary for a physician to evaluate the status of a patient's blood pressure. Many factors such as physical activity, anxiety or the time of day, can influence your blood pressure. Blood pressure is typically low in the mornings and increases from the afternoon to the evening. It is on average lower in the summer and higher in the winter.
WHAT ARE THE SYMPTOMS OF HIGH BLOOD PRESSURE ?
Common symptons of high blood pressure, also called HBP or hypertension includes nosebleed, headache, anxiousness, nervousness, difficulty sleeping and facial flushing...etc. Ignoring high blood pressure (HBP, hypertension) will cause enormous impacts in health.
WHY IS IT USEFUL TO MEASURE BLOOD PRESSURE AT HOME ?
Having one's blood pressure measured by a doctor in a hospital or a clinic, is often associated with a phenomenon called "White Coat Hypertension" where the patient becomes nervous or anxious, thus raising his blood pressure. There are also numerous other factors that might cause your blood pressure to be raised at a specific time of day. This is why medical practitioners recommend home monitoring as it is important to get readings of blood pressure during different times of the day to really get an idea of your real blood pressure. Medical practitioners generally recommend the "Rule of 3", where you are encouraged to take your blood pressure three times in a row (at 3 ~ 5 minute interval), three times a day for three days. After three days you can average all the results and this will give you an accurate idea of what your blood pressure really is.
WHY CEI TECHNOLOGY INC.?
Low MOQ

- Put client interests ahead of ours, thus we are willing to provide flexible range of MOQ.

Quick Reply

- We attach great importance to every question our customers may concern. Promptly replying would be the first step showing the value.

Short lead time

- Shortening the lead time to ensure customer obtaining goods at the first time.

Reasonable price

- Our products are of high quality with reasonable prices.

OEM/ODM Service

- We will do our best efforts to satisfy our client's requirement.

100% Quality Control

- Strict quality control and thoroughly inspecting products are the ways we have won our partner's confidence.

High quality After-Sales Service

- We believe that our every single deal starts from our client receiving products.
BEST SERVICE | BEST QUALITY | BEST TECHNOLOGY
CEI Technology Inc. was established in February 2006 and is a leading company in healthcare, beauty, and medical; and that with our unique business model that combines marketing and R&D together, which can promise to provide newest and best technology product for you, also to ensure you and our success will continue; we will focus on developing what customers really need and want.