Widely Used Pineapple Cake Making Machine (Best Selling, Cost Effective)
ANKO's pineapple cake production line is highly recommended for central kitchens and food factories. The pineapple cake machine could be assembled according to the specific needs and conditions of the factories. To maintain food quality and efficiently increase production capacity, making pineapple cake with machine would be the best choice.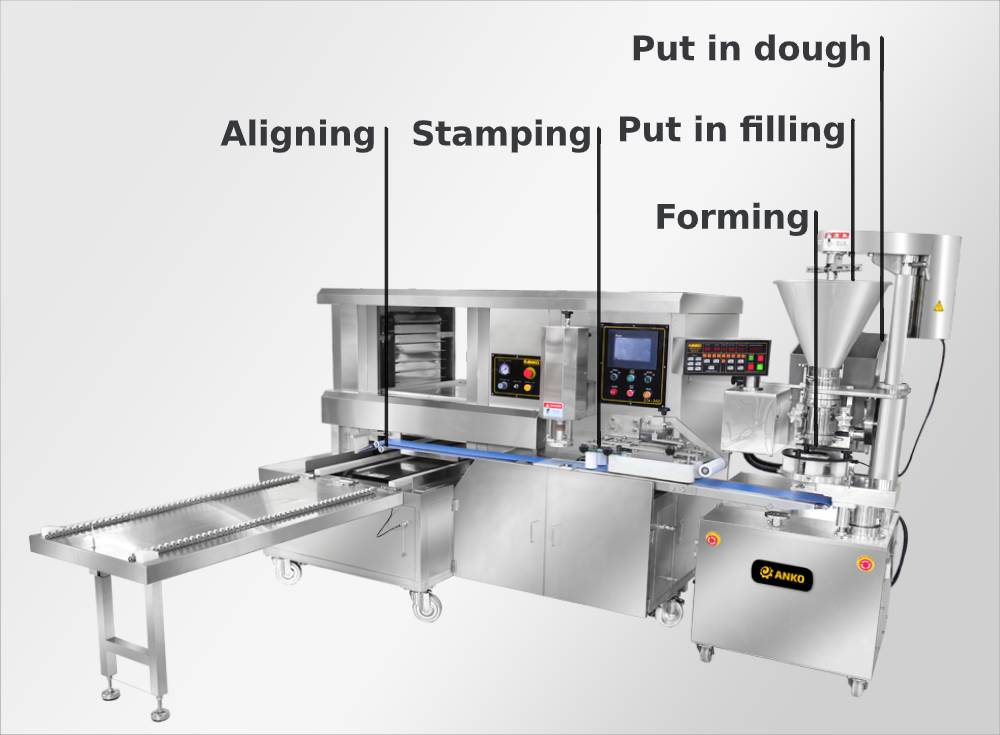 Video
Features
Easy to Adjust Parameters

The weight of products and ratio of wrapper to filling are easy to adjust.

Customized Stamping Mold


Stamping shape and pattern can be customized for your unique products.

Available for high and low moisture content filling




Such as bean paste, peanut powder, minced meats, and sesame paste.
◆ Flexible Space Arrangement
Combines stamping and aligning functions in one machine to save the rest space for your flexible space arrangement.
With a change of stamping mold, the production line can make many types of food products such as maamoul, moon cake, red tortoise cake, etc.
*Click the pictures to see more




Besides One Year Warranty, We also Provide...
Pre-sales Services
Customized production solutions
After-sales Services
On-site maintenance and repair support



Customers in over

100

countries are using ANKO's machines now.
How did we response customers' demand and market trends to meet their needs?
Click
HERE
to view full success story
Click
HERE
to learn more about why customers choose ANKO

Approved quality with ISO and D&B world-class certificates


Based on ISO 9001:2015, we implement a quality management system to precisely regulate from parts procurement, mechanical assembly to quality inspection processes, which ensures that customers get consistent and good quality products.





Stringent SOP for production, never missing a delivery deadline


Immediately after the order is established, a dedicated "production line schedule control table" is constructed before starting the production SOP, thereby conducting precise regulation from parts procurement, mechanical assembly to quality inspection processes.

ANKO's packaging wooden box adopts a double pallet design to increase the load strength. The wooden panels are fixed with cleats, and the interior is reinforced by adding beams and columns. All strengthening measures are in line with international regulations to effectively protect products from damages during transport.
Reliable Protection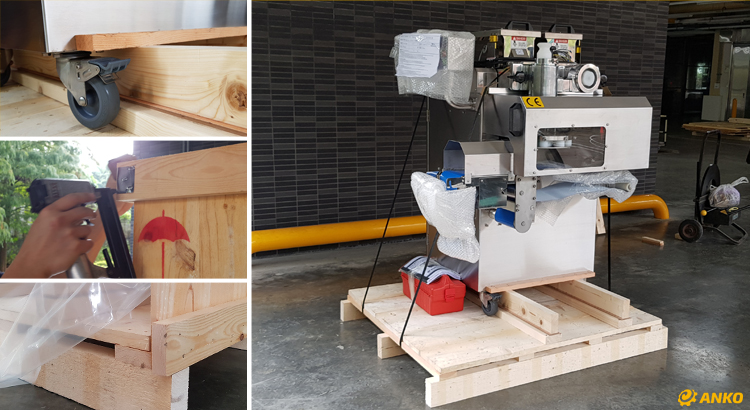 Safe Delivery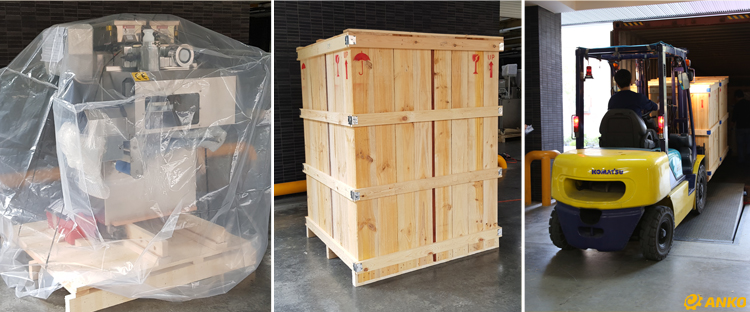 Q1: Are You a Factory or a Trading Company?
We are a machine manufacturer in Taiwan, providing machines and services.
We have 40+ years of experience and customers from over 100 countries.
Q2: What is Your Minimum Order Quantity(MOQ)?
Q3: How Can I Pay For My Order? What is the Payment Term?
We accept T/T, L/C.

(Please note that different payment method has different transaction fee.)
Upon receiving the order confirmation and down payment (30%), we will arrange production.
When the machine is about to be ready, we will inform customer to

pay balance payment (70%).
Q4: Does the Machine Conform to CE/UL/NSF Certification?
Our machines are manufactured in compliance with food sanitation and electrical safety standards in North America and can easily pass any inspection.
You will have no issues using our equipment in your facility.
If needed, we also provide Field Labeling Service for the factories that would like our engineers to be onsite during food and safety inspections.
Q5: Do You Have Agent/Dealer in My Country to Contact?
We have a distribution network in these countries to provide direct sales and timely repair services.
Asia
Bangladesh, India, South Korea, Malaysia, Philippines, Kazakhstan
Middle East
Israel, Jordan, Saudi Arabia, Syria, Turkey, United Arab Emirates
Europe
Austria, Belarus, Germany, Malta, Poland, Russia, Switzerland

For distributor contact information, please contact us directly.
Q6: Can I Test the Machine and Make Food Before I Place an Order?
"Not just selling machines to customers", we provide machine trial and recipe consultation services. You can prepare

your own ingredients in our food lab and test them on our machine. We will introduce you to the production process step-by-step,

cook and taste the final products.
During the visit, we will do our best to adjust the machine immediately to meet your needs.
Q7: I Would Like to Expand My Business, But I Have No Idea How to Start It. Could You Make a Plan For Me?
With 40+ years of experience and professional expertise in equipment, we are capable of integrating every stage and planning turnkey objects.
Let us know the environment and power supply of your factory, the quantity of output and the food preservation you expect, then we will provide a solution tailored to your needs, which helps you spend less cost to increase productivity.

Q8: What is Machine Warranty? How Can I Maintain the Machine?
Every machine carries one year warranty. We will provide new components for replacement as long as machine breakage isn't caused

by misuse of users.
We'll offer a copy of operation manual of your machine that contains machine troubleshooting.
For your
convenience, you can refer to a replacement process video. If maintenance or repair is needed, we could arrange a qualified
engineer to your site.
Q9: Do You Provide Machine Training?
Normally, we provide a copy of operation manual to every machine, and videos or instructions of machine installation and setting is available to ask for. If you need an on-site training. We can send an engineer to you site or you can directly come to ANKO factory for training.
The training includes how to operate machines, maintenance and trouble shooting.
(Note: Customer will have to afford air fare, food, hotel & local transport and training fee per day)
You are welcome to contact us directly!
Our professional consultant will reply within 24 hours (excluding weekends and holidays).