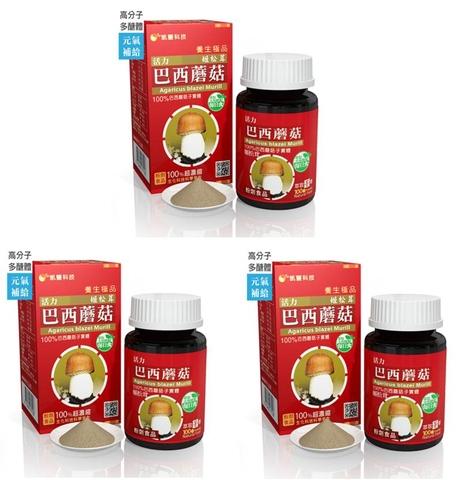 Triple Combination
Agaricus blazei Murill POWDER
Specification: 100±5 g/bottle
Medical information: 100% Agaricus blazei Murill EXTRACT
Suggested Use: Take a spoonful of bottle caps in warm water before breakfast and dinner to avoid moisture deterioration.
Reserve duration: two year if not open
Storage: Preservation method: In order to prevent the loss of biological activity, please put it in the refrigerator and cover it every time after taking it out to avoid deliquescence and solidification.
Origin: Taiwan
Applicable: Middle-aged and ethnic group
Description:

This formula contains pure Agaricus blazei extract, combined with energetic Mg and anti-oxidant microelement zinc. It is shown to be rich in immunomodulating substances such as highly branched β-1,3-/1,6-glucans and proteoglycans.
Zinc is an essential mineral, its deficiency affects about two billion people in the developing world and is associated with many diseases. Enzymes with a zinc atom in the reactive center are widespread in biochemistry, such as alcohol dehydrogenase in humans.
Yeast Organic Zinc
Organic Magnesium

Cautions: Please keep it out of reach of children, avoid direct sunlight, and store in a cool place.