The Rumble Tuff Sweet Assist Manual Breast Pump is a personal device used to express milk from the breasts of lactating women.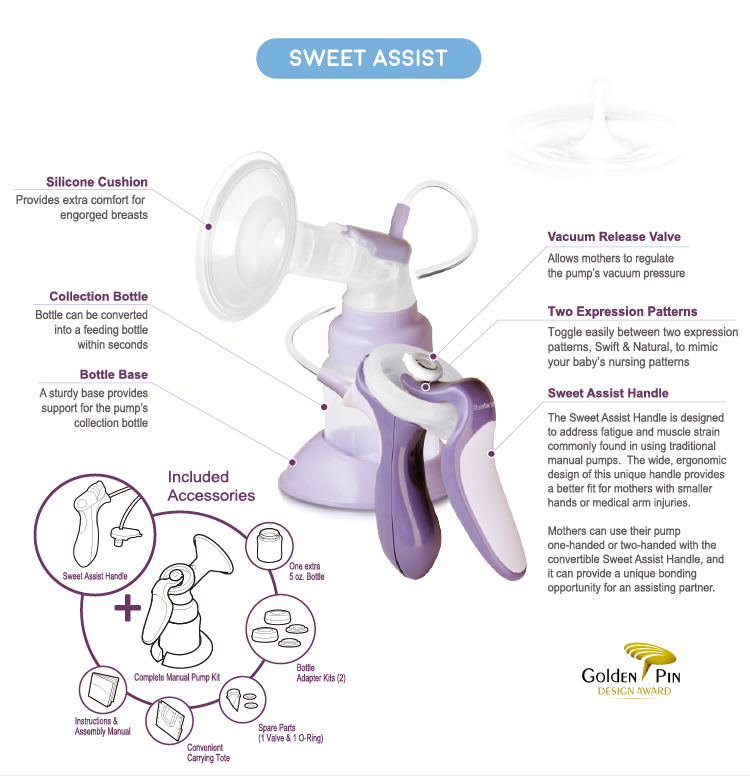 Features
Single manual pump
Two Suction Strengths
Adjustable vacuum strength
Silicone Cushion
BPA free
Collection Bottle can be converted into a storage bottle or a feeding bottle
Bottle Base
Benefits
For occasional time away from baby
More milk in less time when pumping breast milk
mimic your baby's nursing pattern
Provides extra comfort for engorged breasts and reduces shield size
Safe for mom and baby.
Breast milk storage
Helps prevent spills.
What's included
Non-Woven Bag
Spare Parts (1 Valve and 1 O-ring)
Bottle Adapter Kit (2 sets)
Extra 5 oz. Collection Bottle
Sweet Assist Handle Kit
Expression Collection Combo Kit
User Instructions & Assembly
SWEET ASSIST MANUAL BREAST PUMP
The Rumble Tuff Sweet Assist is a small, adjustable, and portable manual pump. It can be assembled as a traditional manual pump by snapping the manual handle directly onto the bottle, or the manual handle can be snapped into the Sweet Assist handle assembly, giving you greater freedom of movement and less hand and shoulder strain while pumping.
The innovative Sweet Assist Handle is separate from the pump's Expression Collection Combo Kit. Its ergonomic design makes it easy to hold and to operate. It also fits well in smaller hands. This special feature alleviates the muscle fatigue that is usually associated with traditional manual pump operation. It also allows a helper's assist in some circumstances.
Like other Rumble Tuff electric beast pumps, the Sweet Assist provides two expression options and adjustable vacuum strength to customize your milk expression so you can mimic your baby's nursing pattern. The Vacuum Adjusting Knob allows quick and easy adjustment of the suction strength, and the release of the vacuum pressure.
The Sweet Assist Manual Breast Pump comes with a 120-day warranty (wearable accessories excluded). Warranty information can be found in the User Manual.
ANTI-BACKFLOW DIAPHRAGM
The Sweet Assist is designed with a closed-system diaphragm which prevents any milk back-flow. While milk flows freely into the collection bottle, the diaphragm acts as a protective barrier, preventing any milk from leaking into the tubing or electric motor.
---
About Rumble Tuff
In 2011, Rumble Tuff was acquired by A Cute Baby Inc. for expansion into a comprehensive baby and maternity care brand. We are committed to promoting wellness and happiness for babies and their families by bringing clever and innovative ideas to the market.
We manufacture and sell a variety of products including manual nd electric breast pumps, four-sided changing pads & ultra-plush pad covers as well as innovative baby healthcare products including the self-closing pacifier and thermometer pacifier.