Suspension,Auto Parts,Coilover,Shock absorber,MITIN racing suspension,M2 Series
Product type : Vertical fork Sport Package
Product Description :
>>
Increase the stroke after adding the cylinder to make
the rear ride more comfortable
>>

Front 20 segments, rear 20 segments, soft and hard adjustment
> > More accurate handling of the movement between extension and compression

> > The Promise of One Year Warranty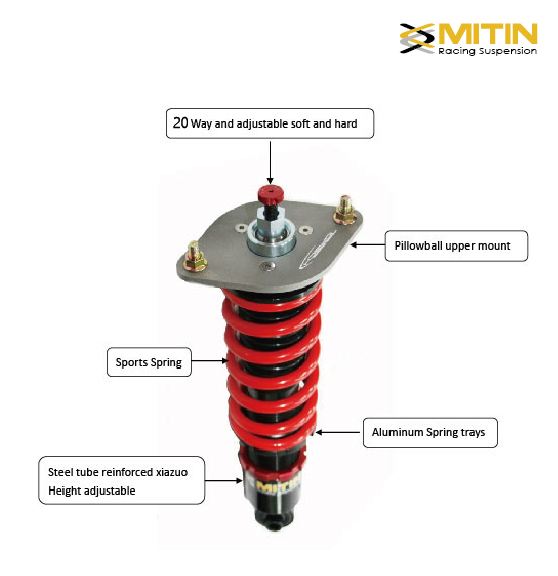 Our Company possesses our own brand in Taiwan.
We also can be OEM for customs, therefor,
And there's no minimum quantity request,
MITIN Racing Suspension, has delivered to European and American countries,
It is an existing vehicle models, shock absorbers in stock, ready to delivery.
MITIN Racing Suspension, in addition to outside manufacturers,
OEM or ODM production. with advanced testing machines,
Products through continuous testing, improvement, research and development,
Shock barrel of imported steel manufacturers, performance and durability, our products are subject to the highest quality and safety standards.
More about us product technology :
Development of shock absorbers
we obtain the size of shock absorbers from the original manufactures,measure the size in normal state and in actuation state,and design based on the damping stroke,body height,setting,etc.
Design of shock absorbers
According to the measurements,a computer is used to design various components and then simulate and test three-dimensionally whether the shape and size will generate any interference.
Proofing manufacturing of products
After obtaining the size and style of the computer design,we carry out parts manufacturing,preliminary damping setting,assembly installation and inspection.
Upon completion of the body,a damping test machine is used to measure the damping characteristic to verify the high and low-speed damping of shock absorbers.
Real vehicle installation
After damping confirmation of shock absorbers,we carry out real vehicle installation,examine the standard values,and adjust the body height,spring specification configuration and damper stage. Then we begin driving tests on general roads,racing roads and hilly roads to personally experience the optimal controllability and driving comfort.
Advantages of damping changes
The driving comfort and great controllability of shock absorbers lies not only in the spring,but also the setting of damping extension and compression,which is the most important of all .
>> MITIN Racing Suspension shock absorbers have been successfully applied to roads with all kinds of conditions , Such as asphalt pavement, climbing and racing roads,etc …. 。
>> They optimize driving stability and grip, improve the driving performance of the vehicle as a whole and provide greater damping force to enhance driving safety and controllability。