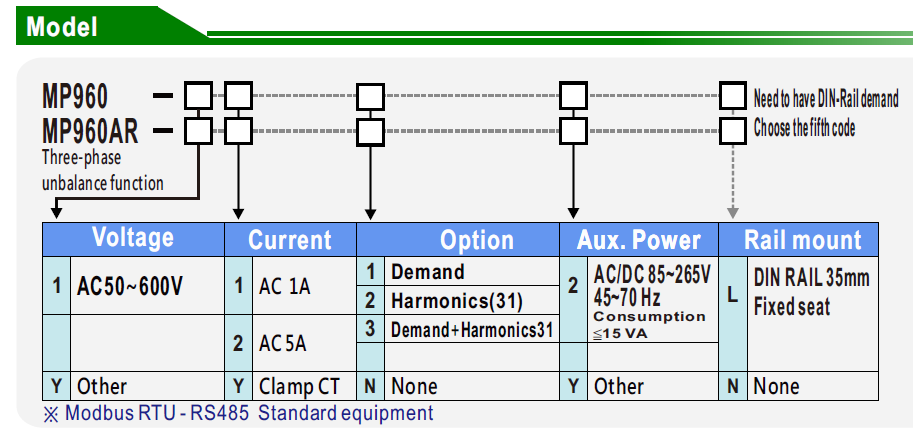 Connection mode:3P4W、3P3W-2CT、3P3W-3CT、1P3W、1P2W、Automatic detection
Display screen:65x60mm White backlight LCD. 4-1/2 Digits. 4 lines. Word height 10mm. Cumulative value 10 digits. Word height 6mm
Phase sequence adj:No need to power off. Directly set by the meter software: Voltage & Current, you can correct the wiring phase sequence error.
Time recording function:1. Start-up time. 2. Load operation time (recording conditions can be set to V or A).
Demand function:Maximum demand record, with Block type and Roll slide type, the time can be set from 1~60 minutes.
Harmonics function:1~31 Harmonic sampling. Voltage and Current "Total harmonic THD" and 1~31 harmonics of each phase.
Digitals input:2 Set DI,12~24Vdc/ 40mA max.
Digitals output:2 Set DO. Can be used as an alarm or kW pulse output, 12~240Vac-dc/ 120mA max.
Communications:Isolated type. RS-485 Modbus-RTU. Baud rate 1200、2400、4800、9600、19200、38400 User selectable. address 1-255.
CE Certification:
EN 61000-6-4:2007
IEC 61000-6-4
CISPR 16-2-1:2006 Clause 7.4.1
CISPR 16-1-2:2003 Clause 4.3
CISPR 16-2-3:2006
EN61000-3-2:2006+A2:2009
EN61000-3-3:2008
EN 61000-6-2:2005
IEC 61000-4-2:2008
IEC 61000-4-5:2005
IEC 61000-4-6:2008
IEC 61000-4-8:2009
IEC 61000-4-11:2004
IEC 61000-4-3:2006+A1:2008+A2:2010
IEC 61000-4-4:2004+A1:2010
ANSI C37.90a (IEC 61000-4-12:2006)