Customized Material: Carbon steel / GCr15 / Stainless

---
Quick Details
Packaging

Lead Time

| | | |
| --- | --- | --- |
| | 1 - 10000 | |
| | 15 | |
SEE MORE BEARING NUMBER
| | | | |
| --- | --- | --- | --- |
| LM3 | LM25UU | LM12LUU | LME12LUU |
| LM4 | LM30UU | LM13LUU | LME16LUU |
| LM5UU | LM35UU | LM16LUU | LME20LUU |
| LM6UU | LM40UU | LM20LUU | LME25LUU |
| LM8SUU | LM50UU | LM25LUU | LME30LUU |
| LM8UU | LM60UU | LM30LUU | LME40LUU |
| LM10UU | LM80UU | LM35LUU | LME50LUU |
| LM12UU | LM100UU | LM40LUU | LME60LUU |
| LM13UU | LM6LUU | LM50LUU |   |
| LM16UU | LM8LUU | LM60LUU |   |
| LM20UU | LM10LUU | LME8LUU |   |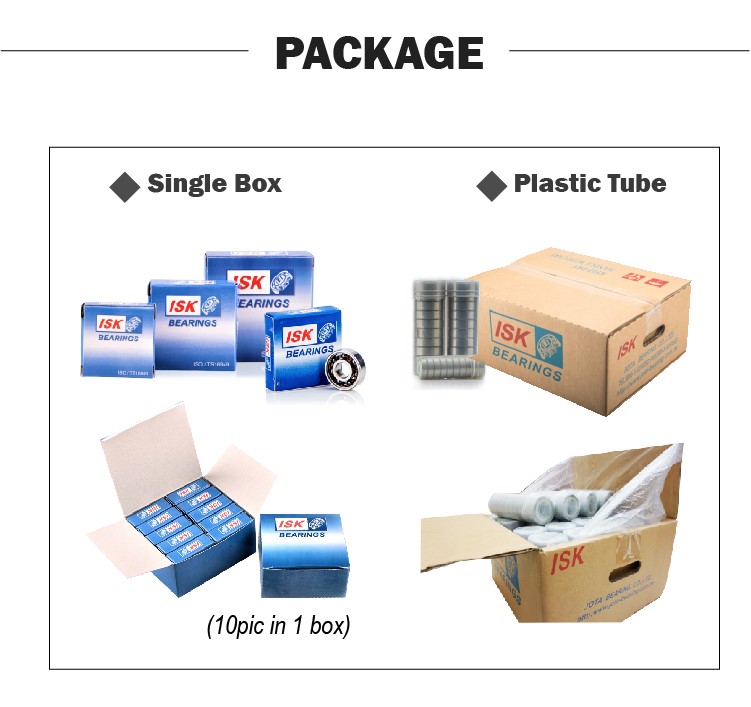 The linear bearing passes through the linear motion system and is a linear motion mechanism that rotates by the steel ball. Since the bearing ball is in point contact with the bearing jacket, the steel ball rolls with minimum frictional resistance, the linear bearing has small friction and is relatively stable, and maintains high accuracy, low noise and high rigidity when carrying heavy load. The retainer and the steel ball are inserted into the cylindrical outer cylinder, and the retainer is fixed to the outer cylinder with the retaining buckle at both end ends, and the guiding loop on the retainer enables the steel ball to smoothly circulate and roll to obtain smooth linear motion.
The linear bearing uses a simple mechanism that effectively uses the space, and is used in conjunction with the circular axis, therefore, the space can be effectively used, and it is suitable for a simple mechanism design.
Linear bearings can be selected according to different environments.
The linear linear bearing is a linear moving element that is rotated by the steel ball, and has a simple structure, that is, a linear motion with low friction.
It is widely used in linear motion mechanisms such as semiconductor manufacturing, food machinery, and precision machine tools, Medical Industry, Food & Beverage Industry, Robotics, Square Rail Guides, Round Rail Guides.
1. High speed, high precision
3. Low noise and good performance
---
F&Q:
Q: If I want to mark my own brand on your bearing in small Q'ty, does it work?
A: Yes, we can engrave your own brand on the rings of bearing in small Q'ty.
If the future, when you have larger Q'ty, we can open the cover mold of your own brand name.

Q: Does your company accept the small quantity of orders?


A: Once your bearing is standard size bearing, we accept the small Q'ty even in 1pc.



Q: will you send me free sample?


A: Yes, most bearing sample is free, but the freight cost has to be paid by you.

Q: If I don't see the type of bearing I need, what should I do?


A: We have too many bearing series number. Sometimes, we are unable to put them all on the Alibaba.
Just send the inquiry to us, and we'll send you the detail of your bearing.
Q: Why is your bearing price higher than others?
A: If you compare our bearing with Shandong price, our price is defiantly higher.
However, if you compare the quality with price, our bearing value is most cost-effective for you to use.

*If you have other questions, please feel free to contact us as below.