GEER
balance ball was called as bosu ball, bosu balance trainer, balance ball chair, bosu ball abs, half exercise ball, half yoga ball. it's like an exercise ball that's been cut in half with a platform on the bottom.

You can use it dome-side-up almost like a step and stand on it, sit on it, lie down on it or bounce around on it for cardio, lower body strength, or core moves.




OEM & ODM SUPPLIER IN TAIWAN, Balance Ball 5 KGS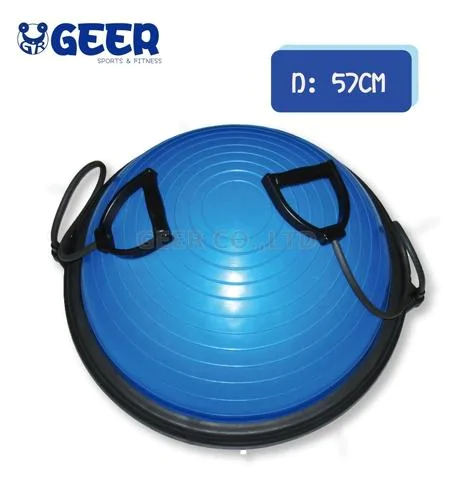 BALANCE BALL / BOSU BALL - HIGH RADIAN

SIZE | D 57.5CM / NW. 5 KGS

MATERIAL | NON-P PVC (Eco-friendly ) | PP MATERIAL

LEAD TIME | 2- 3 weeks






How to work out
1/ Single-leg hold
Mastering balance is the most important thing to do when first starting to use a Bosu ball. These single-leg holds force you to find and maintain your center of gravity on an unstable surface

2/ Bird dog
Performing a bird dog on a Bosu ball adds a little more challenge to the move.

3/ Bridge
Focus on your posterior chain with a bridge off of a Bosu.

4/ Mountain climber
Get in a dose of cardio with this exercise, which will also target your core


5/ Burpee
They're the exercise you love to hate, but burpees truly are worth the effort. Add a Bosu ball into the mix for an added challenge.

6/ Lunge
Executing a forward lunge onto an unstable surface like a Bosu ball will require much more stability and balance. Go slowly to ensure that you maintain good form.

7/ V squat
A variation on a squat, this move will put the emphasis on your quads. Take care as you mount the Bosu ball — it can be tricky!

8/ Side-to-side squat
By hopping up and over the Bosu ball, you'll get strength and cardio in one move.

9/ Pushup
Adding a Bosu makes pushups harder, so don't be afraid to drop to your knees to complete the sets

10/ Triceps dip
Triceps are a smaller muscle that may be neglected in your exercise routine. Enter Bosu dips, which will target the back of your arms. The further away your feet are from the ball, the harder this exercise will be.



Feature
Height: Dim: 30cm * 57.5cm
Bottom : Anti slip design