Amazing Strawberry Daifuku! Eat and makes you get full of blessings! What are you waiting for?Come enjoy the Daifuku 's super bouncy skin with strawberry jam.Contact us now for more information!
Strawberry Daifuku
Product Code: : A4-05
Product Specifications: : 120g / package
Quantity / ctn : Domestic Sales : 12 boxes、Export : 12 / 24 boxes
Retention period : 270 days at room temperature
Length(cm):39.4
Wide(cm):39.4
Height(cm):15.5
Dimension(cuft):0.849373774
N.W.:2.88kg
G.W.:4.2kg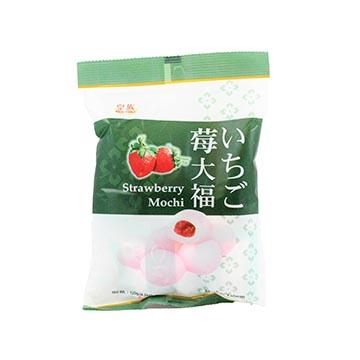 Japanese Daifuku

Royal Family upholds Taiwan local spirit to make the bouncy skin of Japanese daifuku by the best glutinous rice flour with the finest and smooth appearance that do not stick to your teeth. The satisfying serving makes you can't wait to have it a try. You'll immediately taste the fragrance and sweet flavor of Taiwan local Irwin mango, sweet and sour taste of fresh Taiwan Daihu strawberry, as well as sweet and elegant taste of Taiwan's premier Lalashan peaches wrapped in cotton candy overflowing in your mouth after having one bite, making it the best choice of gift when visiting relatives and friends to eat with a good pot of tea for spending the leisure time. Is it a great enjoyment?