Popular hot melt glue chips catalog arrange can make our customers more easy browse. Take a easy introduced, Gaden corporation have more than 30 years history, we are a professional manufacturer and exporter of EVA-baesd hot melt glue. If you have any questions, contact us for more information.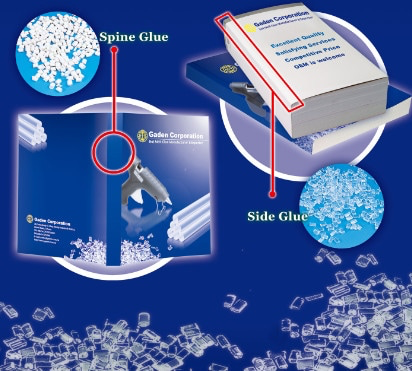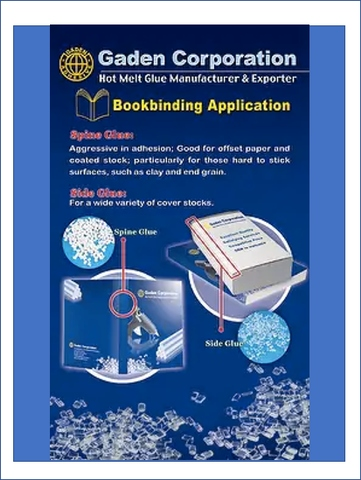 Gaden Corporation is a professional manufacturer and exporter of EVA-based HOT MELT GLUE in Taiwan for 30 years. Our products are 100% made in Taiwan and export to over 50 countries in the world with excellent quality and high stability.
Gaden offer high quality hot melt adhesive chips for packaging and bookbinding application.
- For packaging: wide variety of open time and setting time products with high stability are available.
- For bookbinding: spine glue and side glue for your demands.
Contact us for more information !

HOT MELT GLUE CHIPS FOR PACKAGING
Applications: for box foaming, carton sealing.

Bond to wide range of tough substrates.

Wide range of service temperature.

No odor, no smoke.

No stringing, no adhesive built-up and no charring.

No clogging lines.

Consistent in color and viscosity, crystal clear after melting.

Less equipment maintenance and unexpected downtime.

HOT MELT GLUE CHIPS FOR BOOKBINDING
Applications: Spine glue and Side glue
Spine glue: Aggressive in adhesion, good for offset paper and coated stock, particularly for those hard to stick surfaces such as clay and end grain.
Side glue: For a variety of cover stocks.

Please feel free to contact with us for your specific requirement.
E-mail: charo@gaden.com.tw