Taiwan's top wholesalers, high-quality organic skin care ,cosmetic packaging ,natural skin care products , best products are here, click I see more information!
If you have any questions, please take the initiative to contact us.


Oval Shape Acrylic Luxury Cosmetic/Skincare Packaging
ACRYLIC OVAL DISPENSING BOTTLES & CREAM JARS. BOTTLE CAPACITY :15ML-120ML, JAR:25ML-50ML
Curved and sharp, it has been said
"The eyes are the windows to the soul."
Imagine youself, mesmerizing in liquid pools of a feline companion as you enjoy this design.
[Acrylic Lotion Bottle and Cream Jar Packaging Collection. Bottle capacity from 15ml to 120ml, Jar capacity from 25ml to 50ml.]
Cat eyes – AB / AD Series
The Cat Eyes collection show a metallic luxury look. style ideal for high end skin care products. Metallic gold sprayed painting inside cap with gold collar & pump, clear outer bottle with sprayed metallic gold inside design. Customer can hot-stamping the logo onto the bottle or on the top of cap. For the jar part, we make a full foil gold ring around the cap looks a kit collection.The special part of the jar is the metallic look of the collar different with other jars, just like the bottles have.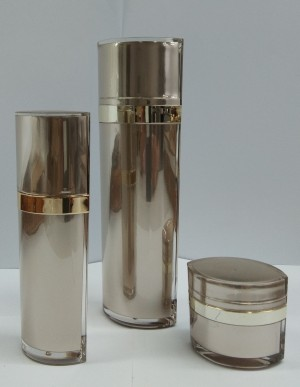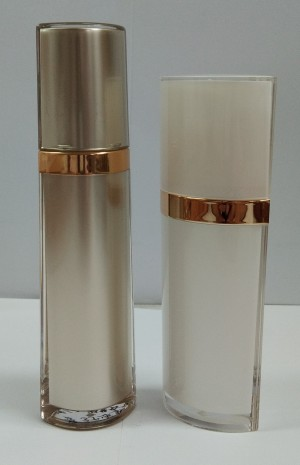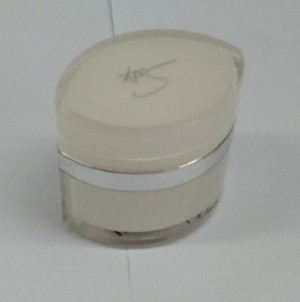 Material data sheet
| | |
| --- | --- |
| Outer bottle | MS |
| Inner bottle | PP |
| Bottle collar | Alum |
| Pump Actuator | PP |
| Pump ring | Alum |
| Cap | MS |
[Acrylic Oval Lotion Bottle Packaging Collection, capacity from 15ml to 120ml ]