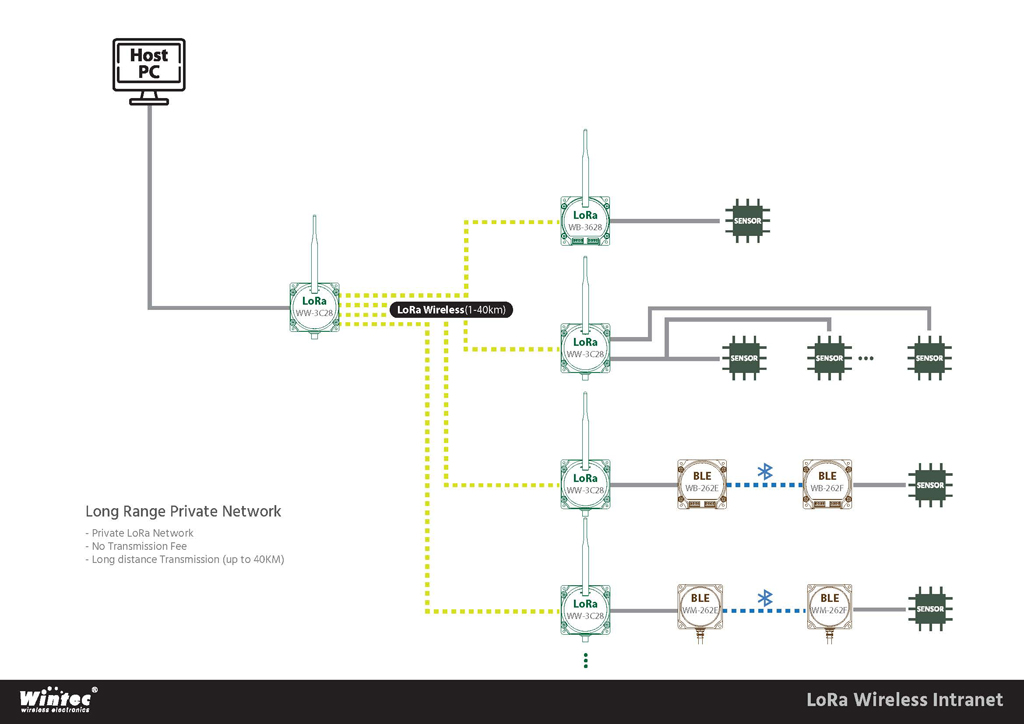 Description
WW-3C28 is the outdoor wireless gateway for LoRa to RS-485, which is suitable for widespread area and outdoor environments where requiring the long-range, low data, and non-immediateness communication.
LoRa is Low-Power and Long-Range transmission protocol and features good anti-interference performance to prevent electronic jamming.
RS-485 MODBUS RTU's industrial interface is available that can connect to the existing industrial control host (ex. PLC).
Analog inputs and digital inputs/outputs support external sensors to connect and trigger external devices.
Query Analog Input / Digital Input by Modbus command.
Setting Digital Output status by Modbus command.
Power saving control remotely.
Supply 5V DC/200mA output power for use in external subunits, which is much suitable as the basic equipment for the industrial Internet of things.
Specification
Product Type: Outdoor
Air Stream Protocol: LoRa Wireless Protocol
Operating Frequency Range: 410 ~ 525MHz / 862 ~ 1020MHz (According to the local regulatory compliance.)
Sensitivity: Up to -136dBm@SF=7 / 10.4K bandwidth
Transmit RF Power: Maximum 2W
Interface: RS-485 x 1 / Analog or Digital Input x 1 / Digital Output x 1
RS-485 Protocol: Modbus RTU
Serial Interface Baud Rate: 1200bps / 2400bps / 4800bps / 9600bps / 19200bps / 38400bps / 57600bps / 115200bps / 230400bps
Analog Input: Analog Input Support 0~10 V / 0~20 mA / 4~20 mA / ADC (0~10 V)
Digital Input: Digital Input Support High / Low Signal Judge
Digital Output: Digital Output Support PWM / Latch Mode
Operating Temperature: -40°C ~ 85°C
Topology: Broadcast / Group / Peer to Peer
Main Unit Dimensions: 10 x 10 x 4.8 cm (Not include antenna and external connect)
Weight: 195 g
Waterproof: IP 68
Input Power Supply: 12V ~ 36V DC / 1A
Output Power Supply: 5V DC / 200mA (Max.)
Power Consumption: 24V 15mA @868 / 920MHz receive, 24V 400mA @868 / 920MHz transmit 2W
Special Specification: Flame Retardant
[ R & D / Factory in Taiwan ]
Our R&D teams offer a great range of wireless electronic products on the basis of OEM / ODM. We welcome your ideas and will create the best solution for you.
Website: www.win-tec.com.tw
E-mail: sales@win-tec.com.tw