IQF individually quick frozen cauliflower rice is only 1/6 of carb white rice. "zero starch" ,Low GI, high dietary fiber. Series products cauliflower frozen fried rice, cauliflower risotto, cauliflower pizza crust. Contact us via email.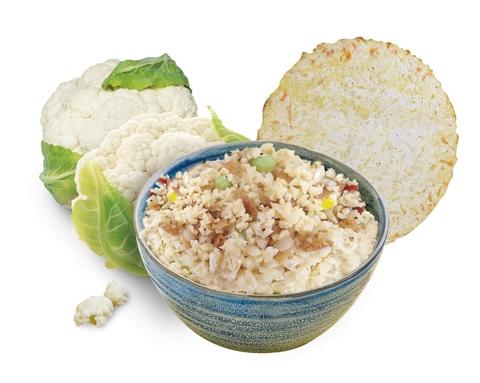 Traits

★

Low GI, substitute rice "zero starch", calories and sugar content is only 1/6 of white rice


★

Cauliflower rice, which is popular in foreign fitness zone, is similar in appearance to white rice. It is also called "cauliflower rice". It is a good choice to replace starch (carbohydrate) with dietary fiber!


★

Cauliflower series products include: Cauliflower Fried Rice, Cauliflower Stew Rice, Cauliflower Pizza Crust, Other Customized Flavored Products.


Asia's largest central kitchen with the largest production area and the largest product range.
The production capacity of 12 sets of freezing production lines is rapidly frozen, and the average output is 180kg per minute.
King's Cook Frozen Food company has always been based on the concept of a large central kitchen, hoping to present all kinds of dishes of different nationalities in the simplest and most convenient way to consumers, so that people only need 3 ~ 5 minutes, you can have a good table immediately. In addition to the selection, processing, cooking, and packaging of all food ingredients, all of which meet international food safety certification. Through the bargaining advantages of large-scale purchases, consumers can enjoy the same as the affordable price. Dishes prepared by five-star chefs.