Patient can lie down in each direction. Both ends of the emergency stretcher can be raised as the head part. Caregivers do not need to distinguish where the head part is while emergency situation. 5
wheel stretcher
gives better stability. E-mail now to learn more about this hospital stretcher
.

Hospital Emergency Stretcher with 5 Wheels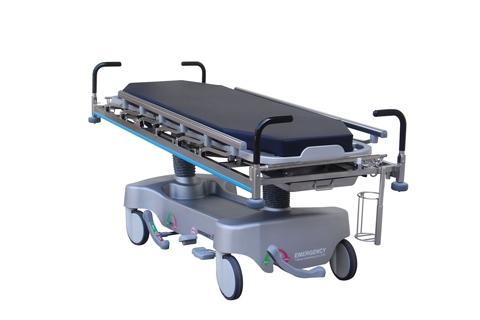 ➢ General Specification
Structure made of Stainless steel and processed with powder-coated.

Equipped with 200mm central locking castor (inclusive of central controlled Brake & Free & Steer system).

Convenient brake and steer pedals are attached to the FOUR sides.

When Backrest rises Bottom part will lower simultaneously to prevent patients from slide down. (for one direction only).

Patient can lie down in each direction. Both ends can be raised as the head part. Caregivers do not need to distinguish where the head part is while emergency situation.

Backrest adjustable by gas spring mechanism.

Dual hydraulic pedestal regulating the elevation and lean easily controlled by foot pedal attached on both sides.

Unique retractable guide wheel optimizes traction and cornering helping to reduce caregiver strain while improving overall mobility.

Two Permanent I.V. poles (3 stage) at two ends.

Four I.V. pole receptacles for extra I.V. poles.

Three hooks for drainage bag attached to each side rail (Totally 6 hooks).


Trend & Rev. Trend Function.

Low height for safer stretcher ingress and egress.

➢ Technical Specification
Maximum weight limit: 350 kg (771 lbs.)

Overall length: 210cm (include bumper wheel)


Overall width: 80 cm (include bumper wheel)

Height from floor to deck: 50(53)(55) cm (lowest) to 80(86)(90) cm (highest)

Side rail length: 140 cm

Side rail height above deck: 32 cm

Mattress size: 63 cm x 187 cm

Maximum head elevation: 90°


Maximum Trendelenburg/Reverse Trendelenburg: 13°(15°)

Caster size: 200 mm

➢ Video