Ergo Integrated ER taper-shank milling cutter is a new product of Nine9 for ER type indexable cutter. Short tool length and quick change system for adapting on small working area. Ideal solution for BT30, driven tools, tapping and turning center.
An integrated ER taper-shank cutter, eliminate assembly tolerance.
A clamping force gained from the 3 parts including Ergo nut, high strength ergo pin and ER taper.
Ergo nut drives the pin to push Ergo holder into ER Taper.
It is " A simple way to maximize clamping force".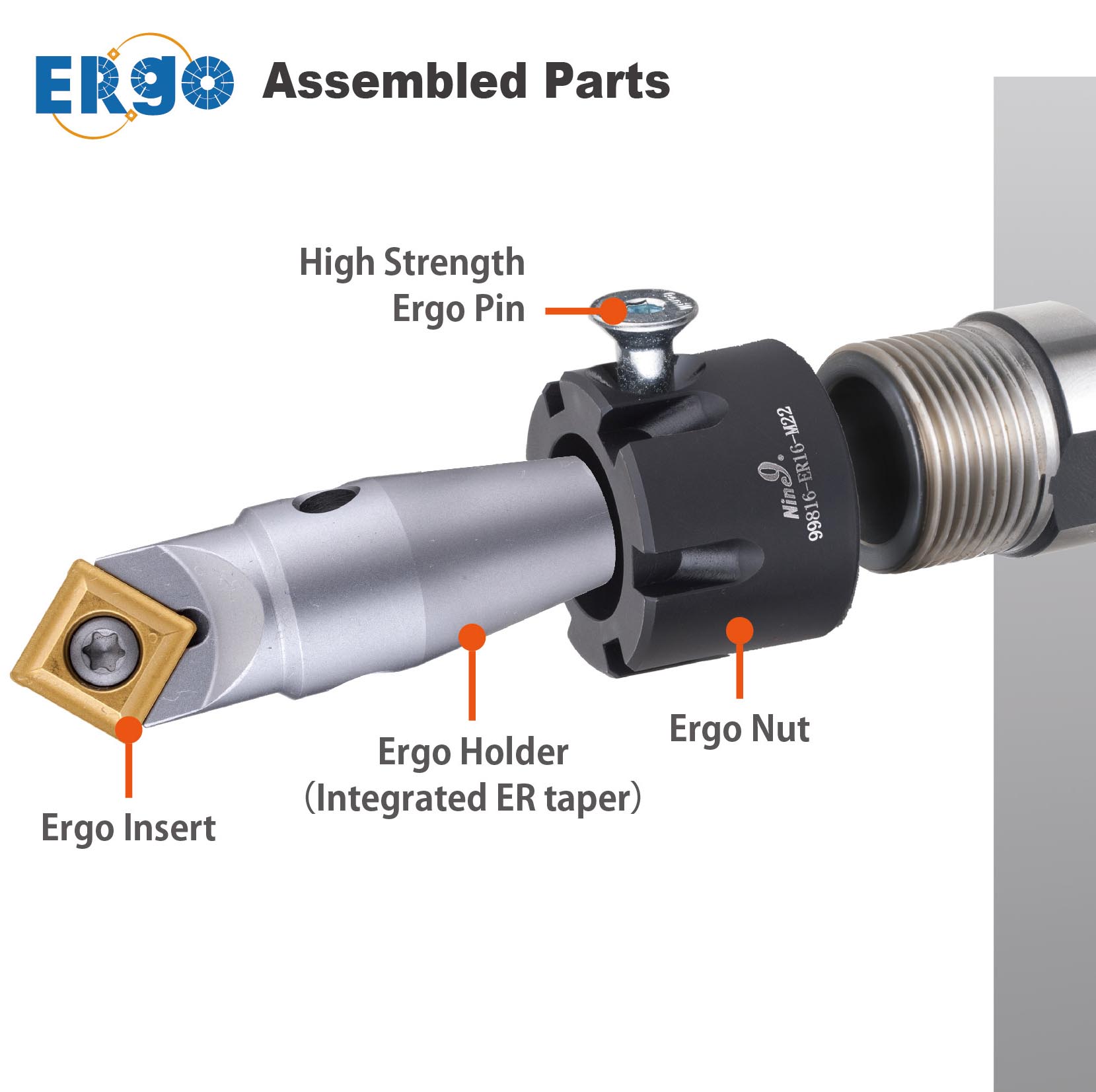 ● An integrated ER taper- shank cutter, eliminate assembly tolerance.
Better rigidity resulted a good surface finish quality and surface roughness.
Excellent repeatability, saving set-up time
● Indexable insert provides the greatest benefit of saving tool changing time and tool length setting time.


● A simple Ergo cutter has minimal assemble parts, changing tool takes just few seconds.
● Thanks to ER taper, the repeatability of assemble tolerance is ±0.1mm while changing same tool length Ergo holder.
Quick change, saving huge machine downtime.
● 3 fixed tool length groups of Ergo system.


●

No need to reset tool length while changing tools in the same group.
Various inserts can fit on same tool holder
● 90° Spot insert , 90°+145

°

Spot insert and corner rounding insert all are interchangeable on same holder.
● Suitable for material, such as non-ferrous metal, aluminum, copper, carbon seel, alloy steel, casting iron,

stainless steel,

Ti-alloy and hardened steel 45~56HRC.