With the evolution of sports like running and cycling, the border of the sexuality had been neutralized for past years.
For now on, the standard for age had been turned down.
Elfo is out now based on the principle that not only adult should own the highest technology. Kids can also break the limit if they have ultra-technology from the high quality gear.
With most advanced lens technology, Elfo is not only assisting youth on blocking harmful HEV light. Hi-color lens gives sharpened vision to support for real-time responsiveness with sturdiest polycarbonate protection.
Single shield lens with hardcore frame, you're going to look as tough as terminator in a real life.
 Sharpness: Sharpened vision / Highlighted Vividness
 Recognition: Color utilization.
 Agility: Instant responsiveness.
 Healthiness: UV / HEV420 Blocker.
 Light regulator: Regulation of light at suitable amount.
 Confidence: Upgraded concentration and acuity.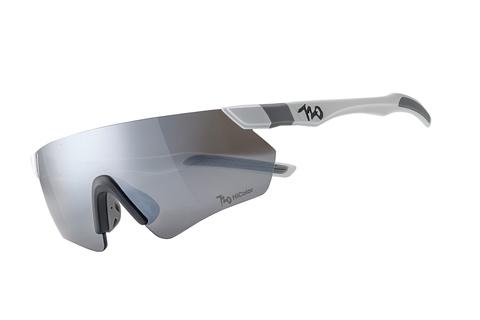 EDO™ Technology
Double Impact Polycarbonate Lens
Double Impact Polycarbonate (DPC) lenses are treated with the same Silicone Crystal Film (SiO2) technology used in the construction of airplanes and bullet-proof windows for double the impact protection of typical polycarbonate lenses. Super thin, they are light and pliable, blocking out UV rays completely and guarding against high- and low-speed impacts.
Super Hydrophobic Water Repellent Treatment Lens
Super Hydrophobic Coating (SHC) smoothes away micro pores on the lens surface to shed even little droplets, reduce static build-up, and make cleaning easier.


Light Enhancing System
The core of our Light Enhancing System (LES) is a multi-coating technology developed by NASA in which thin films of titanium-silicon nano particles are applied. The laminate provides layer upon layer of anti-glare, high-impact reinforcement and water-shedding properties while filtering out harsh UV rays for picture-perfect vision.

ErgoGrip™ System
ErgoGrip™ Padding for the nose, head straps, and other accessories. 720armour's ErgoGrip™ Padding for nose pieces, head straps and other accessories is hypoallergenic, offering protection against sweat and foreign objects while reducing shock and pressure, preventing frame warping.
Anti-Scratch
All 720armour lenses are treated with a special silicon-based anti-scratch coating on both sides to minimize even fine hairline scratches and extend the life of your finely-crafted glasses even after prolonged exposure to harsh conditions.

Wrap Fit System
Wrap Fit System is the cornerstone of high performance across the 720armour lineup. The elliptical curvature facilitates head-hugging fit and maximizes eye protection and shielding from peripheral glare the UV rays. Grippy without clenching, our frames sit lightly on your head for sleek appearance and all-day comfort.