SSR-S40DA-H DC to AC solid state relay with rapid SSR power capabilities. Contact us to learn more about our other products or to get a custom quote.
SSR perform the same job as Mechanical Relays, but have the following advantages:
SSR produce less electromagnetic interference than mechanical relays during operation. This is mostly due to the absence of a phenomenon called contact arcing only present in mechanical relays, where the physical contacts of the relay tend to spark internally while switching. The reduced interference can also be attributed to the fact that SSRs do not use electromagnets to switch.

The switch contacts of a mechanical relay will eventually wear down from arcing. An SSR will have a longer life because its internals are purely digital. Properly used, they will last for millions of cycles.

SSR turn on and off faster than mechanical relays (≈1ms compared to ≈10ms).

SSR are less susceptible to physical vibrations than mechanical relays.

Since the switch inside an SSR isn't a mechanical switch, it does not suffer from contact bounce and operates silently.
SSR-S40DA-H 40A Single Phase Solid State Relay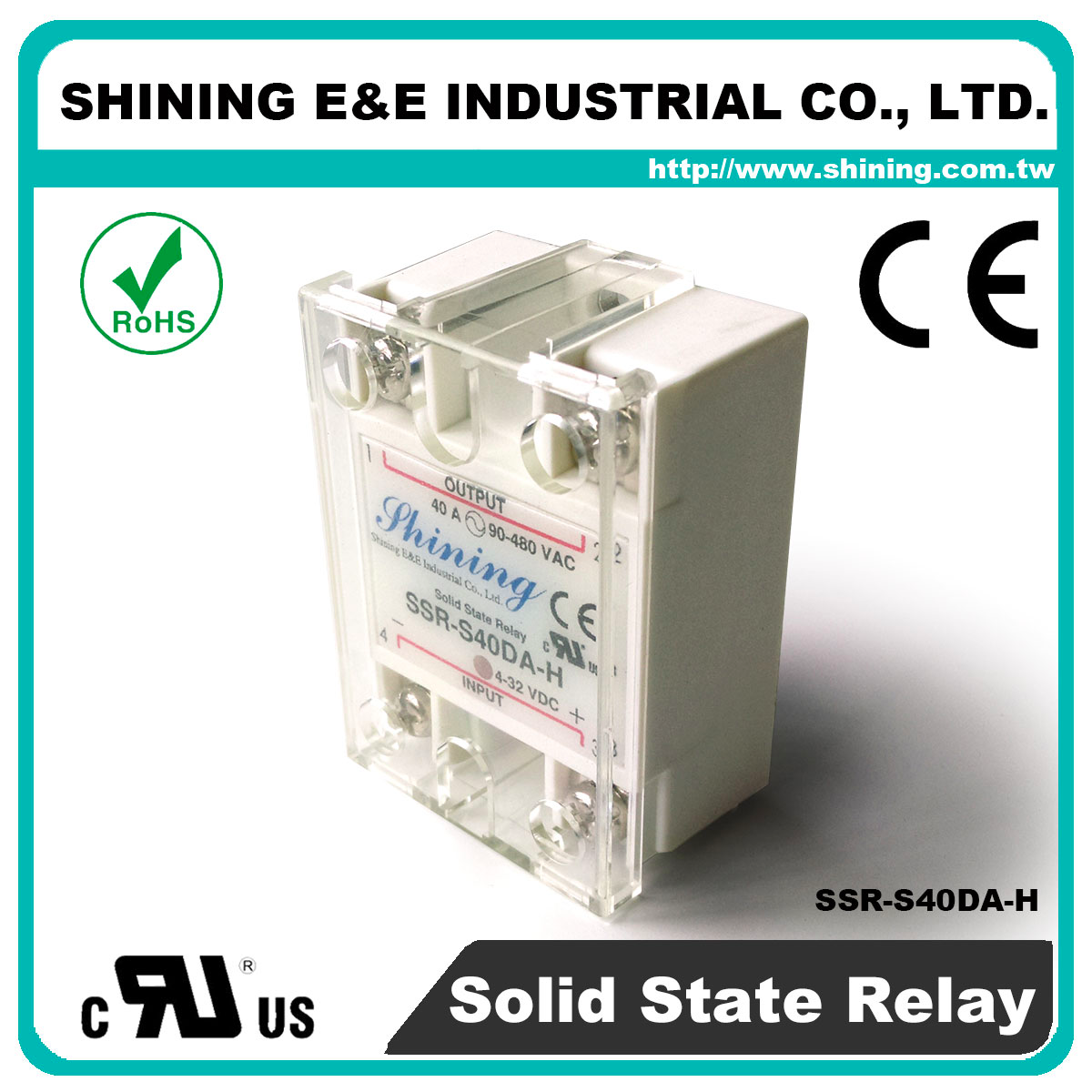 General

Produc

t Information / Product Features
Item number
SSR-S40DA
Output Load Current
40A
Output Load Voltage Range
90~480VAC
Operate InputCurrent
4~32VDC
Size
57.0*42.0*24.0mm (L*W*H)
Certificate
Product Photos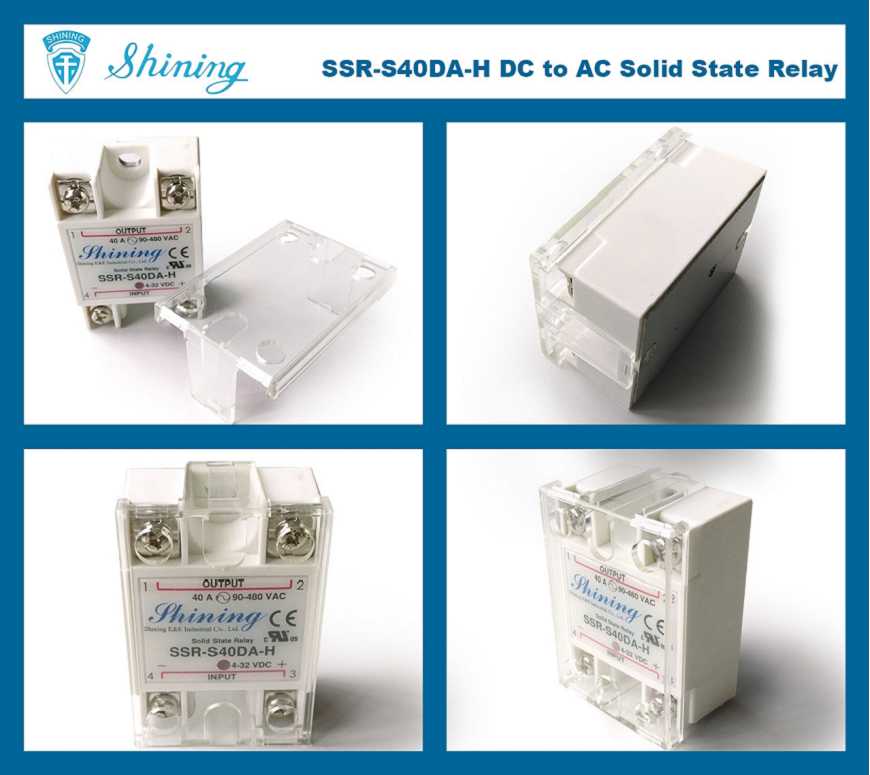 (Series Name or)
Product Item No.

SSR-S10DA

SSR-S25DA

SSR-S40DA

SSR-S10DA-H

SSR-S25DA-H

SSR-S40DA-H

Specifications/Dimensions

L x W x H

57 x 42 x 24 mm

57 x 42 x 24 mm

57 x 42 x 24 mm

57 x 42 x 24 mm

57 x 42 x 24 mm

57 x 42 x 24 mm

Ref. L1 x W1

43.8 x 27 mm

43.8 x 27 mm

43.8 x 27 mm

43.8 x 27 mm

43.8 x 27 mm

43.8 x 27 mm

Ref. L2 x W2

46.3 x 12 mm

46.3 x 12 mm

46.3 x 12 mm

46.3 x 12 mm

46.3 x 12 mm

46.3 x 12 mm

Ref. Diameter (Ø)

5 mm

5 mm

5 mm

5 mm

5 mm

5 mm

Electrical Specifications
Max.
Load Current

10 A

25 A

40 A

10 A

25 A

40 A

Control Method

Zero Cross

Zero Cross

Zero Cross

Zero Cross

Zero Cross

Zero Cross

Input Operating Voltage

4~32 VDC

4~32 VDC

4~32 VDC

4~32 VDC

4~32 VDC

4~32 VDC

Input Current

20mA@
32 VDC
20mA@
32 VDC
20mA@
32 VDC
20mA@
32 VDC
20mA@
32 VDC
20mA@
32 VDC
Must Turn
Off Voltage

0~2.5 VDC

0~2.5 VDC

0~2.5 VDC

0~2.5 VDC

0~2.5 VDC

0~2.5 VDC

Output Load
Voltage Range
24~280 VAC
24~280 VAC
24~280 VAC
90~480 VAC
90~480 VAC
90~480 VAC
Max. One Circle
Peak Surge

120 A

250 A

400 A

120 A

250 A

400 A

Min. Blocking Voltage

600 V

600 V

600 V

600 V

600 V

600 V

Turn On & Turn Off Time

< 1/2 AC circle

< 1/2 AC circle

< 1/2 AC circle

< 1/2 AC circle

< 1/2 AC circle

< 1/2 AC circle

Isolate Impedance

50 MΩ
500 VDC
50 MΩ
500 VDC
50 MΩ
500 VDC
50 MΩ
500 VDC
50 MΩ
500 VDC
50 MΩ
500 VDC
Max. On-State
Voltage Drop
1.6 V / 25oC
1.6 V / 25oC
1.6 V / 25oC
1.6 V / 25oC
1.6 V / 25oC
1.6 V / 25oC
Materials

Body Materials

PBT

Color

White

Accessories & Parts

SSR-S-CV (Optional)

Heat Sink

HS-60XXX series (HS-60050, HS-60100, HS-60150, HS-60200)

Approval & Certificate

UL/cUL File No. E301692, CE, LVD
Packaging
100pcs/ctn, N.W. :11.6kgs /carton