Page preface
This page is for product introduction only. If ordering, kindly please go through the online shop and choose the catalog upon your located region.
Product description
After infection, the plant is prone to symptoms that affect the appearance, decreasing the economic values, and in severe cases, retarded growth leads to loss of yield. Direct or indirect loss of economic crops caused by virus infection could reach billions US dollars globally per year.
Once infected by viruses, it is not easy to cure, and different plant viruses are transmitted to health plant populations via instruments, insect bites, leaf wounds etc., causing even greater prevalence. Therefore, early detection of viral infection, isolation and elimination of diseased plants are critical to plant viral infection prevention.
Cymbidium Mosaic Virus (CymMV) and Odontoglossum Ringspot Virus (ORSV) are common and important orchid viruses. After infection of the two viruses, the orchid plants often display with mosaic spots and necrotic streaks. The growth rate of plants is slowed down due to virus infection and the appearance is also affected. Infection of CymMV and ORSV greatly impacts orchid production and goods quality, resulting in significant economic loss. Therefore, it is extremely important to detect and control both viruses infection in tissue culture or graft production.
Conventional virus detection methods, such as PCR, ELISA have the disadvantages like lengthy detection time, high-expense instruments, and professional operators. The method of Rapid Test utilizes the principle of antigen-antibody binding, shortens detection time to 5~15 minutes and does not require extra instruments and professional operators, therefore is suitable for field mass screening use.
AgitestTM Plant Virus Rapid Test - 2 in 1 Cymbidium Mosaic Virus and Odontoglossum Ringspot Virus, a fast and easy way to test for CymMV and ORSV while providing both high specificity and sensitivity.
Combining CymMV and ORSV on one single strip is time saving and cost effective. Instrument and experience are not required to perform the test.
Fast to know the testing results
Easy to operate
Easy tool for on-site testing
Accurate
Convenient and portable
Can be stored at RT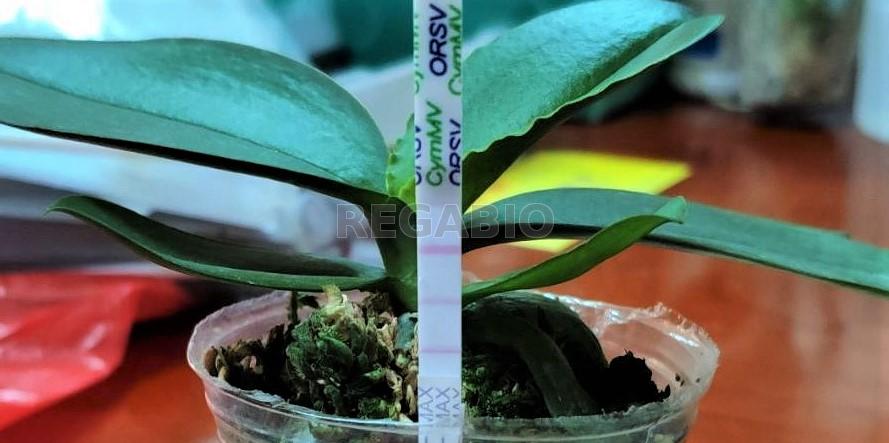 Methods comparison of Sensitivity and Specificity :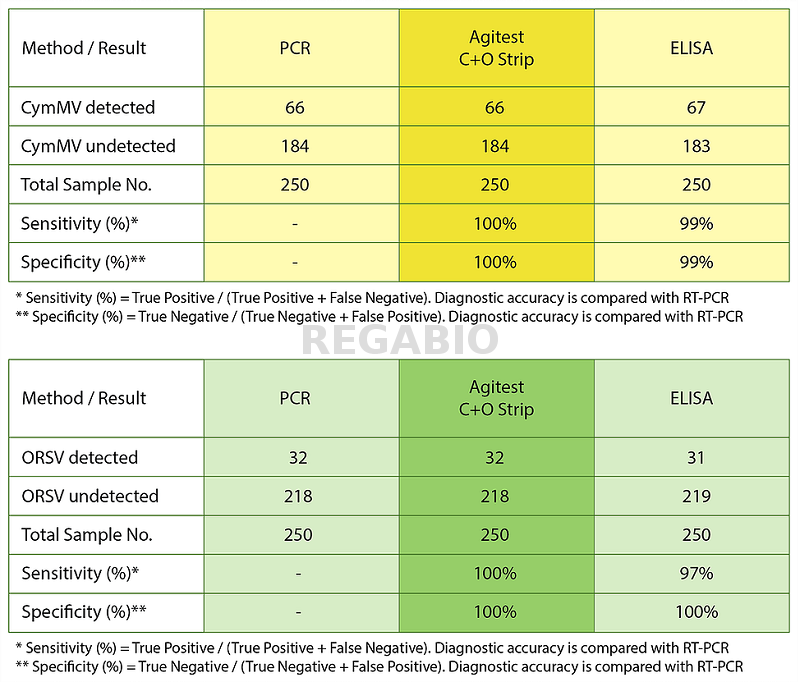 Easy to operate Lateral Flow test kits allows rapid detection of plant viruses, providing the best early prevention method in maintaining healthy virus free plants.
The test is an ideal orchid virus diagnostic tool for tissue culture labs, farmers and hobbyists.