Semi-automatic machine for the manufacture of wood and faux wood Venetian blinds
Punching

1. Semi-automatic punching with slat auto feed
2. Slat output speed is adjustable
3. Punching dies available for 25, 35 and 50mm slat sizes
4. Requires 5kg/cm2 air supply
5. Voltage to customer requirements
6. Include 1.5M length collecting tank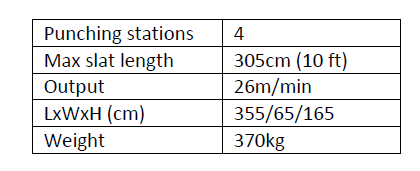 Company Information
Cottai, based in southern Taiwan, serving the customer needs with a wide range of blind components.
ODM service, good at part design, tool making to the production of final product.

Vary price competitive in the market, helping you to be more profitable.

24hrs customer service.

Quantity negotiable and prompt delivery.

R&D
Exhibition &Feedback
Exhibitions History:
1. 2015 Stuttgart R+T
2. 2014 Shanghai R+T
3. 2012 Stuttgart R+T
4. 2012 Dubai Index
5. 2017 Mega build Indonesia
6. 2018 R+T Stuttgart
7. 2021

R+T Stuttgart coming soon...
Why Choose Us
1. Place of origin
All of our products are made in Taiwan, with the best of quality.
2. Packaging& Shipping
Our company offers a strong and steady exporting carton; customized label,box and carton are also available.
3. Delivery time
As soon as possible after receiving the order confirmation and deposit.
4. Service
Quick response in 1 day during our working hours. Provide a satisfied after-service.
5. Samples
Our company can provide catalog/ quotation/ sample for customer reference.
6. Business feedback
Our company value goes further than economic approach, we are committed to help our community and beyond.