45mm Center Support Bearing for Isuzu Diesel Truck FVR NRR 6.5L 6BG1 6BD1 5.8L. Drive shaft center support is rubber and metal parts bonded together around a bearing. Suitable for 1984 Isuzu forward ftr, fsr diesel truck. Premium material provides load stability, and high wear resistance. Available for Isuzu medium-duty commercial vehicles model for sales in Australia ,New Zealand, North American, Middle East markets, Central America markets, South American markets, Australasia and European markets. African countries.
for Isuzu Center Bearing 45mm Forward FTR, FSR Diesel Truck 1984 available quantity 100 to 200 pcs FREE WORLDWIDE SHIPPING
-Application specific to ensure a correct fit for your vehicle
-Quality construction for durability.
-Country of manufacture : Taiwan
-Please check this part number before purchasing to ensure fitment. Any question, please contact us. Thank you !
More for Isuzu diesel truck center bearing support for your selection !
| | | |
| --- | --- | --- |
| YEAR | REFERENCE OEM | REFERENCE MODEL |
| 1989 | 8-94328800-0 | RODEO/TFR, TFS 2WD |
| 1987 | 8-94328799-0 | RODEO/TFR, TFS 4WD |
| | 8-94202521-0 | FASTER/KB26, KB41 4WD |
| 1981 | 8-94222-972-0A | FASTER/KB26, KB41 KB21 |
| 1984 | ACB5010 | FORWARD/FTR/FSR |
| | 5-37516-007-0 | ISUZU-40mm |
| | 5-37519-003 | ISUZU-25mm |
| | 8-94222-972-0 | ISUZU-25mm |
| | 94328850 | ISUZU-30mm |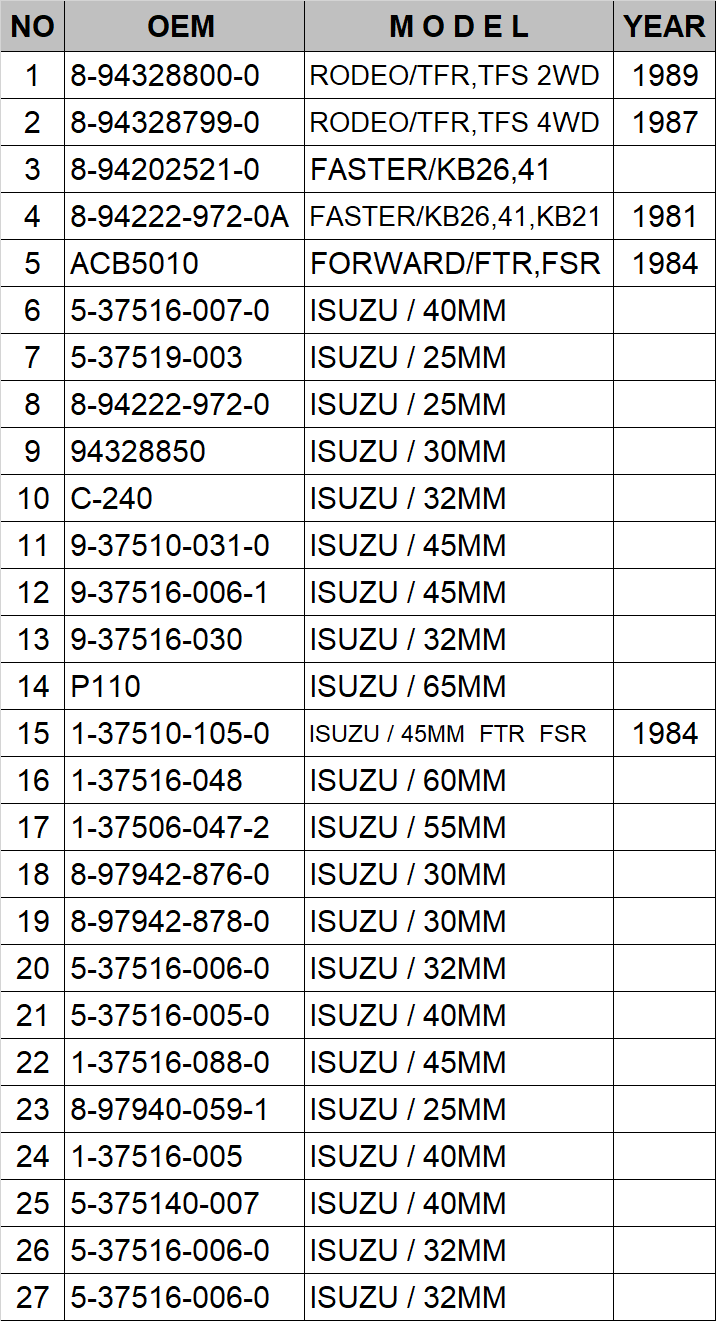 SHIPMENT by postal parcel
-Delivery time to United States 7 to 10 business days
-Delivery time to Asia 5 to 9 business days
-Delivery time to South America 9 to 17 business days
-Delivery time to Center America 9 to 15 business days
-Delivery time to Europe 9 to 15 business days
-Delivery time to Australasia 12 to 20 business days