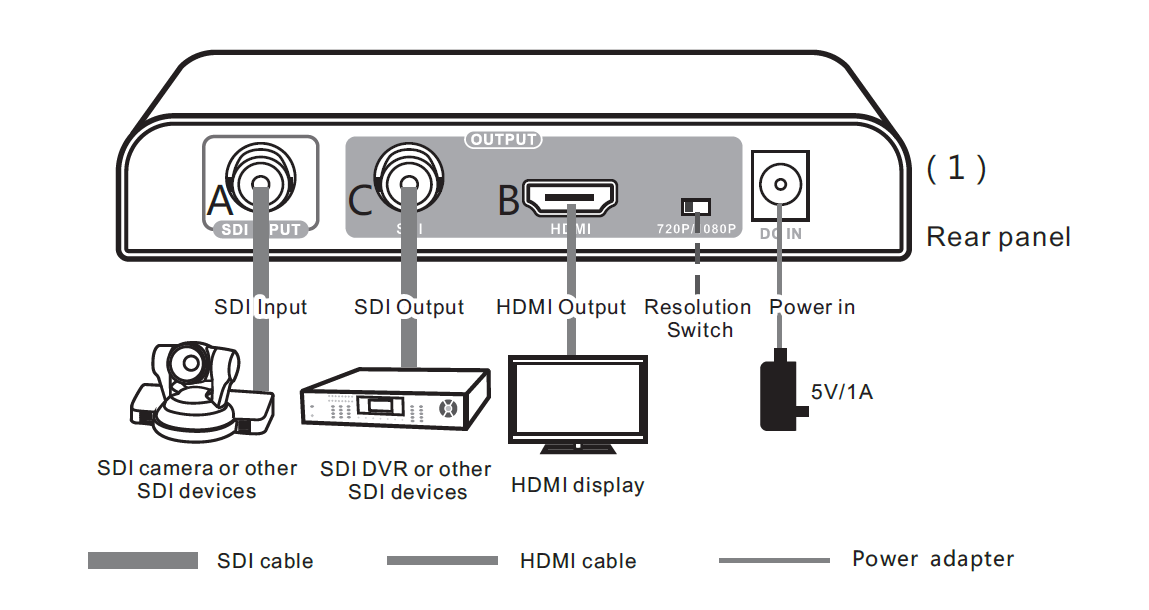 Operation

1. SDI input:
adjust the SDI input resolution as per the parameters of the converter box, and the SDI resolution the converter box supports
is: 480i@60HZ; 576i@50HZ; 720P@50HZ/60HZ; 1080i@50HZ/60HZ; 1080P@24/25/30/50/60HZ.

When the converter box is compatible with the input SDI resolution, the green LED lights, otherwise, the red LED will light.
2. HDMI output
Switch the display to the right channel. Please switch the output resolution between 720P and 1080P as per the display features.
NOTE: this product is with scaler function, and will upscale the SDI resolution to HDMI and the output resolution is fixed at 720P or 1080P.


3. SDI output :
There is one more SDI output pass through, and users can connect to SDI display or SDI DVR as per their need.
Parameters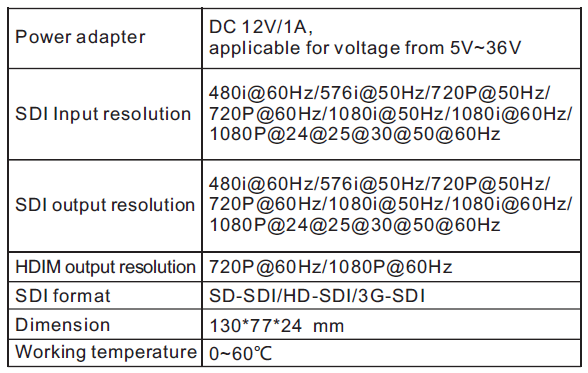 About us:
Established in 1989, SINEW TECHNOLOGY specialized in CAT5/6 audio visual technology over 30 years, we are affirmed by worldwide partners in Asia, Middle East, U.S.A., Europe especially for reaching 90% local market share. Having firmly implanted into education market over 100 countries and 100,000 classroom installations, SINEW aims to create an efficient learning and teaching environment. Also focusing on Streaming & Recording System, HDMI Extender, Conferencing, audio visual control, digital campus and so on, we never stop to devote efforts to innovative, multi-functional, and advanced solution. We also provide OEM/ODM service to fulfill customers' local requirement more exactly.