The KDJ-300 is an automatic resign glue type labeling machine. It is a applicable on to all round shape bottles.
Max. Capacity:

60 Bottles/Minute.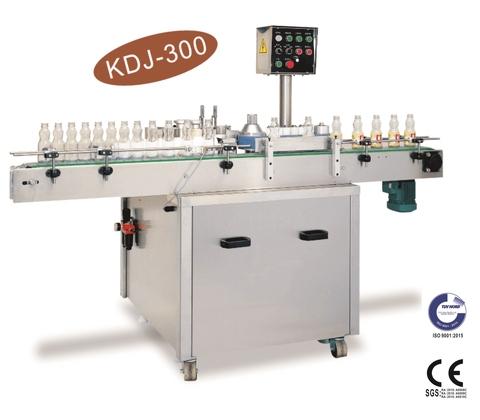 • Electronic speed adjustment by inverter.
• Require lower adjustment and replacements in order to run variable sizes.
• Easy operation to save production cost.
• Tidily labeling to containers.
• All stainless construction for easy cleaning.
All kinds of round bottles.
Models

KDJ-300M

KDJ-300MM

KDJ-300ML

KDJ-300MLL


Bottle Dia

16-40 mm

16-40 mm

30-80 mm

30-80 mm

50-120 mm


Label Size

H W

H W


20-80x50-100

20-80x50-100

40-110x50-130

40-110x50-130

40-110x100-360


Speed

40-60

60-120

40-60

60-120

30-50


Motor Power

1/2 & 1/4HP

1/2 & 1/4HP

1/2 & 1/4HP

1/2 & 1/4HP

1/2 & 1/4HP


Source Power

220/380V,50-60Hz
Single phase
220/380V,50-60Hz
Single phase
220/380V,50-60Hz
Single phase
Single phase

Single phase


Kind of Glue

Resin

Resin

Resin

Resin

Resin


Air pressure

3-6 kgs/cm2
3-6 kgs/cm2
3-6 kgs/cm2
3-6 kgs/cm2

3-6 kgs/cm2


Machine Weight

560 kgs

660 kgs

560 kgs

660 kgs

560 kgs


Gross Weight

710 kgs

810 kgs

710 kgs

810 kgs

710 kgs


Packing Size

2350x1130x1570 mm

2350x1130x1570 mm

2350x1130x1570 mm

2350x1130x1570 mm

2350x1130x1570 mm

➢ Video: