The new generation of Videotek V-SAFE BT1 bibo Bluetooth wireless motorcycle tire pressure products, its Bluetooth sensor is small and light, easy to install; in addition, the use of mobile phones to receive tire pressure, tire temperature data, eliminating the general tire pressure receiving display screen, It allows you to be aware of the working condition of the tire without destroying the beauty of the vehicle and your own riding style, so that you can ride more safely!
APP Support 8 major national languages, including Chinese, English, Japanese, German, French, Russian, Thai, and Italian.
Added "battery power display meter"!
Vidio V-SAFE BT1 APP can be displayed on the smart phone screen for more than five minutes
Added Serial number scanning function, fast scanning code without error!
Strengthen the sense of display design and regular broadcast function, even when the screen is dormant or executed in the background, you can clearly know the working status of tire pressure and temperature!
New version cooperation mode!!
The APP can pay to modify the main logo and APP icon of the APP according to customer needs, but the intellectual property rights of the APP are still owned by Vidiotek, and Vidiotek will assist the APP to be launched on appstore.
The logo on the sensor can be customized!
MOQ;1000pics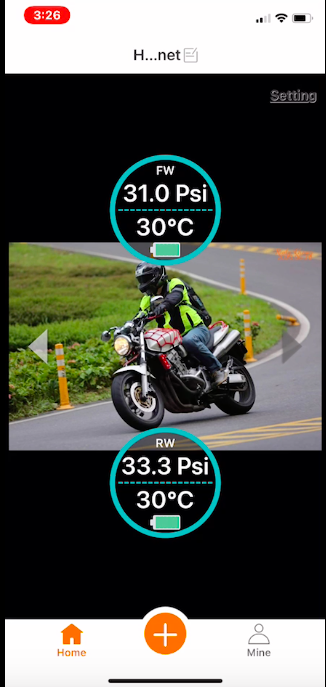 Vedeotek V-SAFE BT-1 bibo Bluetooth wireless tire pressure tire detector, with a professional, user-friendly, intuitive APP design style, through the mobile phone download APP link display. It combines your smartphone with advanced technology and the safety of riding.
It can be used with unlimited additional vehicles, one APP can support the detection of multiple motorcycles, and can also support two-wheel, three-wheel, four-wheel multiple types of motorcycles. Intuitive operation interface APP, can easily install pairing without learning; change the phone without re-binding the code set, log in to the originally registered account password, you can directly apply the original setting value, making the use after the replacement more convenient. There are already a lot of riders who will choose to use Bluetooth headsets, with the use of Bluetooth headsets, can receive the alarm sound of the tires conditions through the Bluetooth headset, make the alarm sound clearer, and also reduce the abnormal operation of the tires because of the intention to ride the bicycle. Alarm sounds and flashing lights can alert the riders to be safer on the road
Note1: This product is recommended to be used with a Bluetooth headset!
Note2: This product is recommended for exclusive motorcycle use!
Note3: The ringer volume must be turned on when using this product
V-SAFE BT-1 make bikers more focus on riding!
V-SAFE BT-1 lets you enjoy cycling more safely and freely!
Products obtained from HondaMotorcycle Taiwan and Suzuki Motor Taiwan
recommendation!
If customer needs a customized app, we can also provide services for the needs.
If the sensor is left for more than seven minutes, the sensor will go to sleep until the next time the motorcycle is started or the motorcycle starts to travel, the sensor will wake up。