ANKO Automatic Stainless Steel Italian Arancini Making Machine (SD-97W)
ANKO's arancini maker is suitable for producing arancini, the machines work well with rice as well as various starches and fillings, and are capable of manufacturing an array of different stuffed ethnic food products such as cookies and meat buns. Based on the expected productivity, space and specific requirements for your product line, ANKO offers the SD-97SS Table Type Model, which is compact in size, suitable for restaurants or a smaller production. The SD-97W model is slightly larger in size, but has the capacity of producing up to 4,200 pcs/hr, it's also engineered with 5 programmable memories and can work with both dry and wet fillings. And the SD-97L Model is specially designed with a larger product size range, which can produce final products ranging from 40 g to 200 g/pc, it has the maximum capacity of 4,800pcs/hr.
For more detailed product information, please contact us through "contact us" button.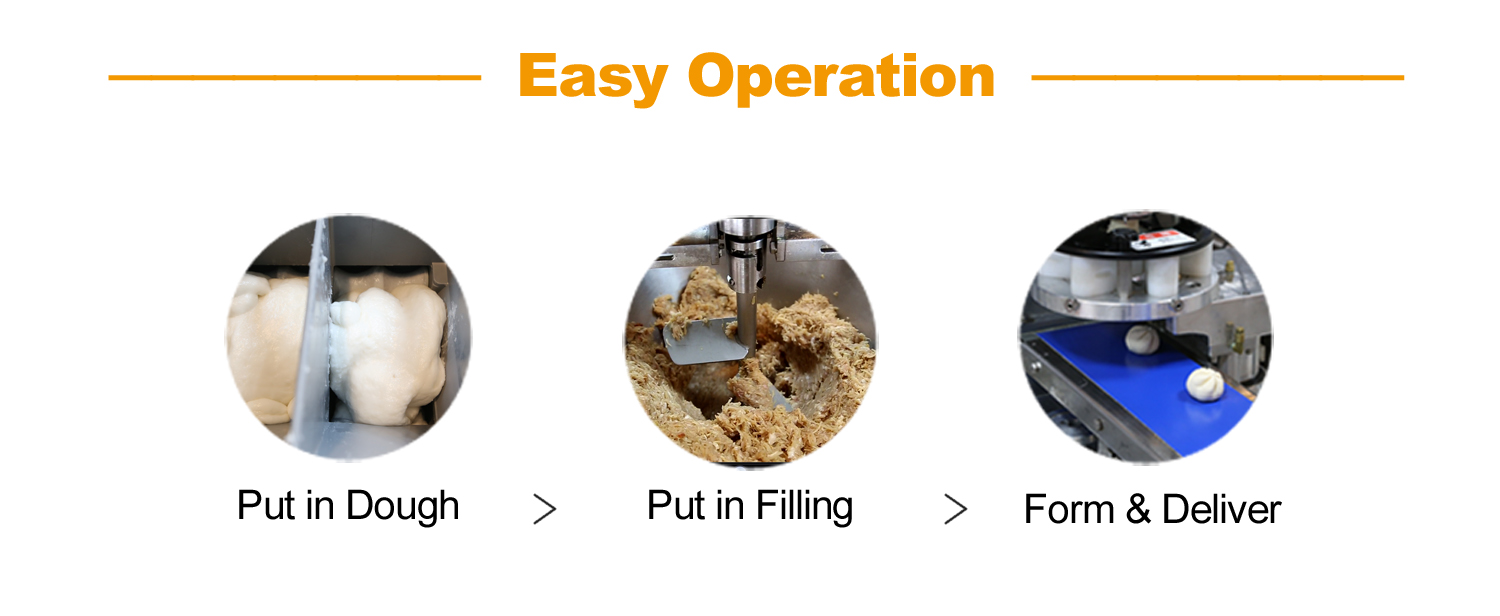 Compact Size

It requires little space for operation, the production and installation space of SD-97W is only 90X145cm.
Wide range of dough compositions

Different materials can be applied for the encrusting product skin, such as :

Beef + bulgur → for Kubba/Kibbe

All purpose flour, high gluten flour, yeast dough → for different buns

Rice starch dough → for tangyuan, rice ball, and mochi

Cookie dough → for cookies
Wide range of fillings

Special filling system can apply both wet and dry fillings.

Fillings can be bean paste, peanut powder, minced meat, sesame paste.
Less damage to the dough texture
Resettable counter

Users can easily calculate the total number of products.

| | | | | | | |
| --- | --- | --- | --- | --- | --- | --- |
| | | ANKO Website | | Subscribe Newsletter | | Get the latest price |

After Sales Service
 

Q1

Is there any difference between food made by machine and by hand?

A1

In the process of machine design, we usually refer to handmade processes and modify the recipes to make the tastes of handmade and machine-made products remain consistent. Ingredients and dough texture are influenced by various factors; ANKO always keep testing until clients are satisfied.

Q2

I have semi-automatic machines already, could you make a plan to add some extra machines to meet my production requirement?

A2

ANKO is capable of customizing machinery. Please let us know what machines you have and their functions. ANKO engineers will carefully study the compatibility of your and our machines and provide the most appropriate solutions for you.

Q3

I would like to start a food business, could you give me some suggestions?

A3

ANKO has more than 230 kinds of food information and has exported our machines to 108 countries worldwide. Our clients are in the baking, frozen, or ethnic food business. To learn more, please do not hesitate to contact us or give us your information for providing you suitable and precise marketing information.

Q4

I would like to expand my business, but I have no idea about the relevant machines? Could you make a plan for me?

A4

ANKO has 35 years of experience and does comprehensive surveys on various food machines in the world. Therefore, we are capable of integrating every stage and planning turnkey objects.




According to the environment and power supply of your factory, the quantity of output and the food preservation you expect, our solution will be tailored to your needs that you can spend the less cost to create the highest productivity.

Q5

What can we do if our machine does not work? Is there any warranty?

A5

We often use global-standard components to assemble machinery and attach a copy of operation manual which specifically indicates parts' names and specifications as well as the machine troubleshooting.




All of our machines also carry one-year warranty. ANKO will provide new components for replacement as long as machine breakage isn't caused by misuse of users. For your convenience, you can refer to a video of replacement process. If the inspection or maintenance is necessary, we are happy to arrange a qualified engineer to your location.

Q6

What if my recipe is confidential information that cannot be provided to you? How does the machine produce food which meets my requirements?

A6

It is better to provide us the basic ratio in your recipe or any recipe which is close to yours for our test first. However, a slight difference will affect the taste a lot. ANKO highly recommends you to come over our show rooms to prepare your own ingredients in our testing kitchen or bring along your prepared stuffing and dough to test them in our machine.




During the visit, we will do our best to adjust the machine immediately to meet your needs.




Moreover, we will introduce you the production process step-by-step, cook and taste the final products. The face-to-face presentation must be clearer than watching a video.

Q7

How can I train my workers to operate the machine?

A7

A copy of operation manual is attached to every machine. If you need more information, we will provide you videos or photos of machine installation and setting.
If you require further assistance, ANKO will arrange an experienced engineer to do training and testing on-site. The training includes teaching your workers how to operate machines and diagnose machine problems and solve them.
| | | | | | | |
| --- | --- | --- | --- | --- | --- | --- |
| | | ANKO Website | | Subscribe Newsletter | | Get the latest price |