Ankle Compression Sleeve For Sprain-Medical Grade Compression
(Worldwide Agent Wanted)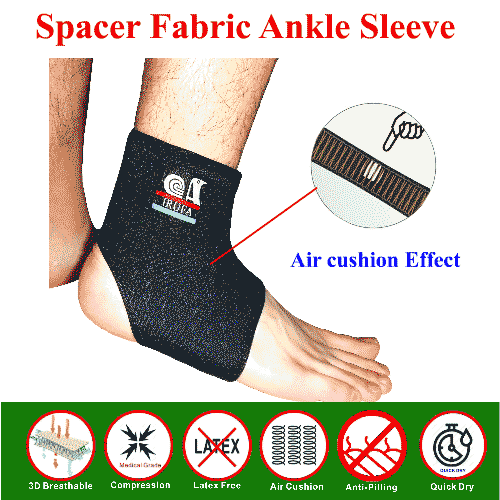 Neoprene Free, No Smell, Latex Free, Hypo-allergenic. Made by 3D breathable, soft touch, elastic Patented spacer fabric. Inside brace is quick dry moisture wicking fabric which keep your skin dry. 3D breathable in any direction, 24 hours comfort use.
US FDA Listed product, Provides lift to heel, helping to prevent sudden stretch or strain to injured tendon. Ideal for acute and chronic ankle injury, Plantar Fasciitis, Pain Relief for Sprains, Strains, Arthritis and Torn Tendons.
Medical Grade compression & Comfortable design: Not all the spacer fabric are the same. Our patented spacer fabric have medical grade compression strength to meet the user's need. Besides, Our patented 4 way elastic spacer fabric material is latex free,3D breathable in any direction and much breathable than neoprene or PU foam. latex free to reduce the allergy in use. You can comfortably use for all day and night time.
Suitable for all kinds of sports to protect ankle including tennis ,badminton, volleyball, basketball, baseball, ice hockey, skating, cricket, cycling, yoga, gymnastics and martial art. Fits both ankle. Adjust the compression at any time . Machine washable, Light
Size XXS fit 9 ~ 10 inch(22.8 ~ 25.4 cm), Size XS fit 10 ~ 11 inch (25.4 ~ 28 cm), Size S fit 11 ~ 12 inch(28 ~ 30.5 cm),Size M fit 12 ~ 13 inch(30.5 ~ 33 cm), Size L fit 13 ~ 14 inch(33 ~ 35.5 cm), Size XL fit 14 ~ 15 inch(35.5 ~ 38 cm), Size XXL fit 15 ~ 16 inch(38 ~ 40.6 cm), Size 3XL fit 16 ~ 17 inch(40.6 ~ 43.2 cm)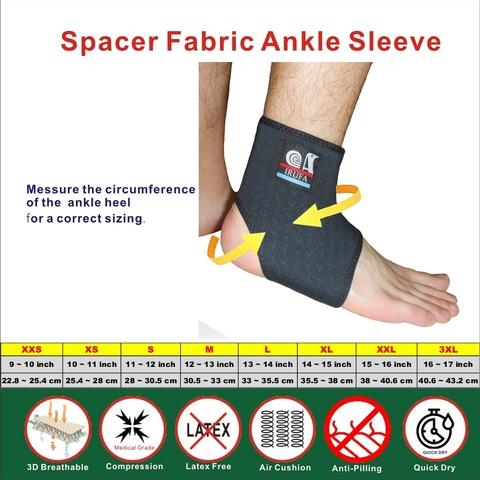 Ankle Compression Sleeve is made by patented elastic knitted spacer Fabric.
We are not the first company to produce the spacer fabric braces in the world. However we are the fist company to produce medical grade compression spacer fabric Braces in the world. Medi , Prime, Muller, Breg and Donjoy also produce the spacer fabric Braces. Airmesh, Hg 80, Airtex and Drytex are all spacer fabric. Not all the spacer fabrics are the same. Most of spacer fabric in the market do not have enough compression.
Only Spacer fabric have air cushion effect. Irufa have developed a series medical grade compression Spacer fabric and Braces. Spacer Fabric have much more breathable and moisture wicking than Neoprene or PU foam. Not like most of tubular knitted fabric have the latex content and allergy problem. Spacer fabric is latex free and hypo-allergenic. Elastic spacer fabric is much more expensive and comfortable than non-elastic spacer fabric. We choice elastic spacer fabric to meet the customer's need.
The criteria to judge a good material for sporting & Medical braces are elastic, enough compression, comfortable, breathable, durable, no allergy, easy care, and additional added on functions. Our patented spacer Fabric can meet all these criteria and should be one of the best material for the sporting & Medical Braces