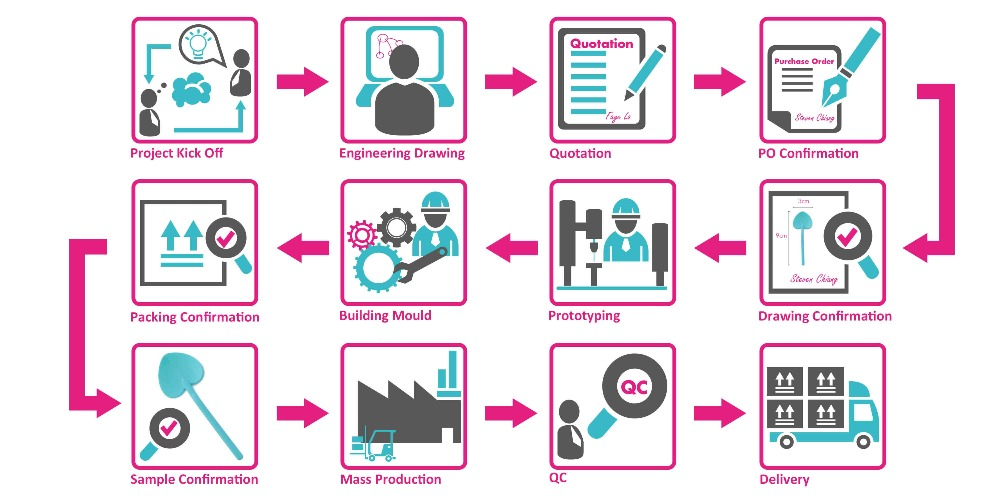 Tableware / Product Development
Step 1 Understanding customers' demand and requirement
Step 2 Engineering drawings, hand drawings, or similar samples provided from customers
Step 3 Proposal and Quotation
Step 4 Order Confirmation
Step 5 Product drawing confirmation (7-10 days)
Step 6 Prototyping (if necessary, 7-14 days)
Step 7 Building the mould and tooling (30-55 days)
Step 8 Packaging Confirmation
Step 9 Samples confirmation (7-10 days)
Step 11 Quality Inspection
Q: How do I pick the right cutlery? What's the different between PP and PS Cutlery?
A: PS cutlery usually has high stiffness but easily get fragile. It is cold food friendly cutlery. PP cutlery has high impact resistant but is with less stiffness. PP cutlery is hot food friendly cutlery. Cutlery with the length less than 15cm usually used for take-out meal with small boxes, desserts, and fruits. Long cutlery can be used in picnic, and banquets.
Q: What is PLA or CPLA cutlery?
A: PLA or CPLA cutlery are eco-friendly cutlery. CPLA cutlery is hot food friendly cutlery. Both cutlery can react in landfills like other organic waste. It is 100% decompostable and biodegradable. PLA or CPLA cutlery also have high stiffness. The characteristics are similar as that of PS cutlery.
Q: Is PS or PP cutlery decompostable or biodegradable?
A: PS or PP cutlery is recyclable, but decompostable or biodegradable.
Q: Can I order small quantity as the trial order?
A: Yes, we accept small order of our existing cutlery.
Q: Can I have the cutlery with my own embossment logo?
A: Yes, we have strong experience in helping customer fulfill his/her design. Every year we build around 30-40 different products for our customers.
Q: Can I have logo print on the existing cutlery?
A: We suggest customer to print the logo on the boxes or do the embossment on the cutlery. We usually don't recommend customers print logo or artwork on the cutlery because of the concern of the contamination. In addition, the cost of the logo print will be much higher than product itself.
Q: What's the price for customized cutlery? Is it very expensive?
A: We can build the cutlery based on customers' demand and budget to find the best solution to satisfy customers' customized desire.
Q: How do I start the customized project?
A: Please send us your 3D design drawings. If you don't have the drawings, you can send us your hand drawings or the referral, and also advise the cutlery length and usage. After fully understanding your thoughts, we can help you design the brand new cutlery.
Q: What's the lead time for the process?
A: In general, it will take 7-10 days to design the new cutlery. It will take another 30-40 days to build the toolings. If you need the prototype before building the tooling, it will need another 5 days.
As a professional plastic injection moulding products manufacturer, Tair Chu provides not only in-housed design products such as plastic cutlery but also customized products for customers with big brand name around the world. To respond the market demand and improve quality control, Tair Chu has been certificated with ISO 22000 and HACCP since 2014.

Tair Chu Enterprise Co., Ltd. has strong background in the plastic injection industry.

Established in 1978, Tair Chu began from manufacturing plastic chair for domestic furniture distributors. Over the past thirty five years, with good reputation in product quality, on-time delivery and promptness in customer service, Tair Chu accumulate solid experience in developing a variety of customized plastic products and countless customers in a varety of industries including food packaging, fitness equipment, home appliance, car accessory and electronic device.

In 2008, Tair Chu made decision to lower the reliance on non-food packaging products and set up the direction for long term product development in food packaging industry. Since then, we built all kinds of disposable plastic cutlery and disposable food containers for either general customers or brand customers. In order to meet customers' demand for production environment and HACCP standard, we have not only been continuously improving the processing procedures but also invested largely in production capacity and facility expansion.

In 2014, Tair Chu has relocated to our new factory building with dedicated clean room for the tableware production. Integrated product design, mould development, mass production, printing, packing and delivery, Tair Chu provide our customers one stop shop service to simplify their process. Our team also work closely with our clients to develop innovative product to satisfy customer 's demand at the retail level for creative and value-add products.

Look to the future, Tair Chu will keep embracing new technical challenge to help our customer fulfill their ideas and striving for sustainable development and our customer commitment, superior quality, on-time delivery and promptness in customer service based on the present foundation.