3 in 1 Glucometer PC Link Glucose Cholesterol
Hemoglobin Test Machine
ET-3211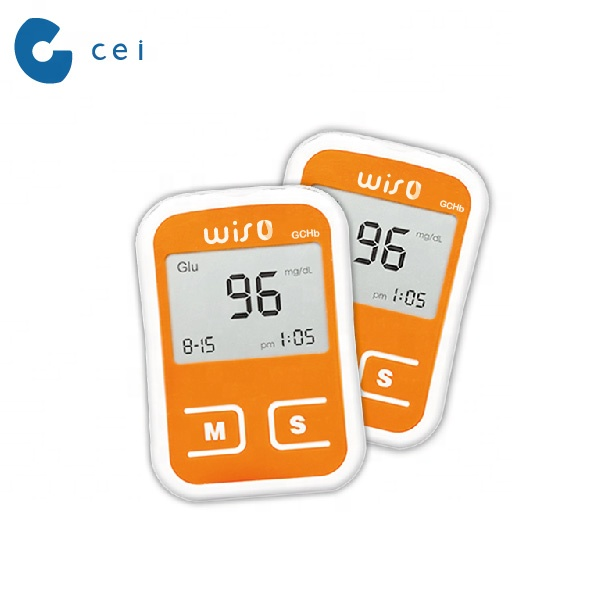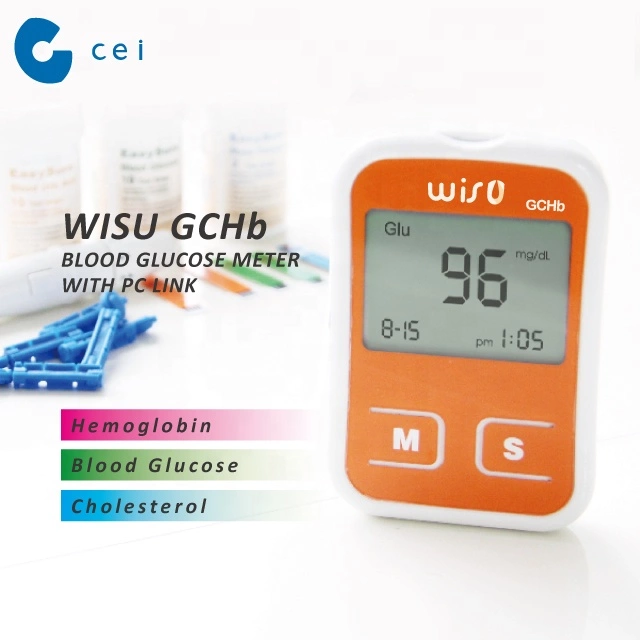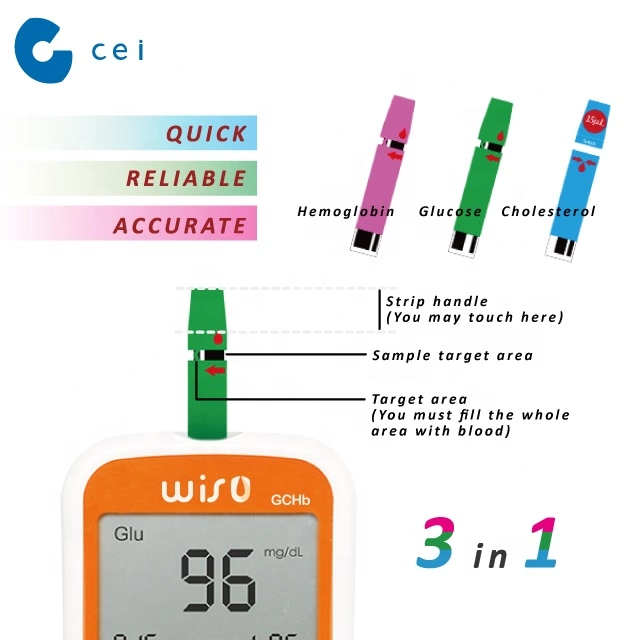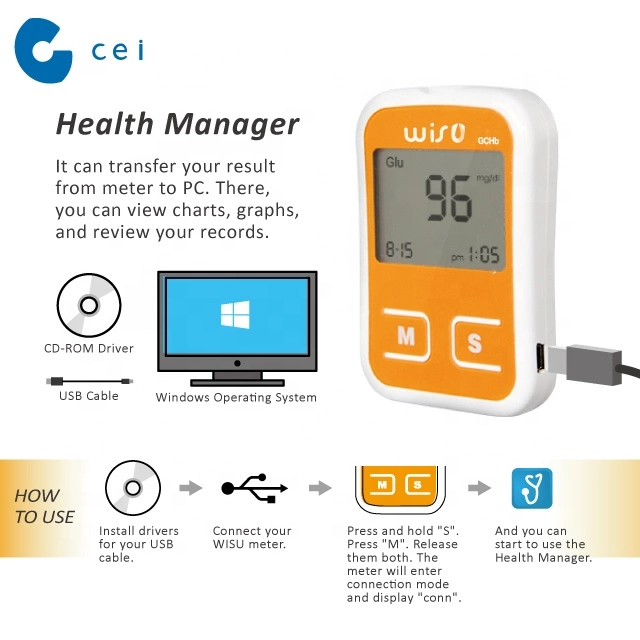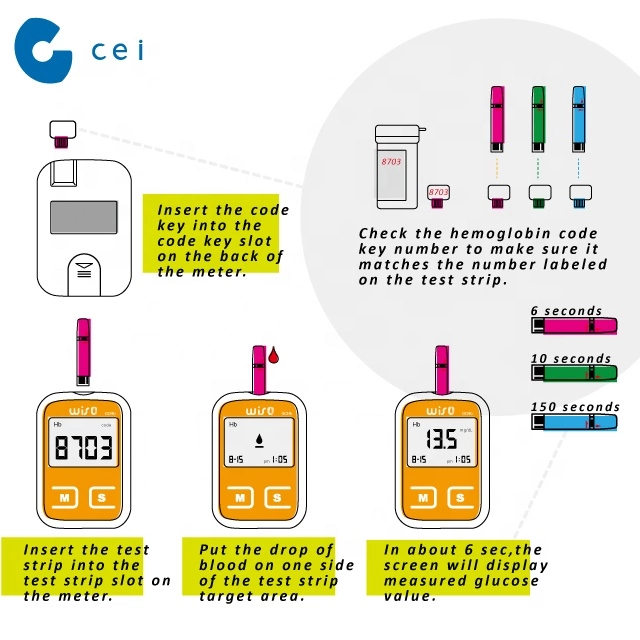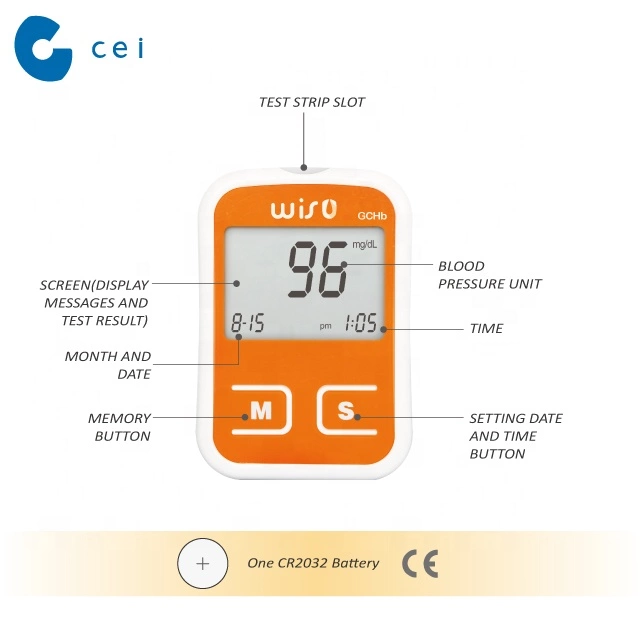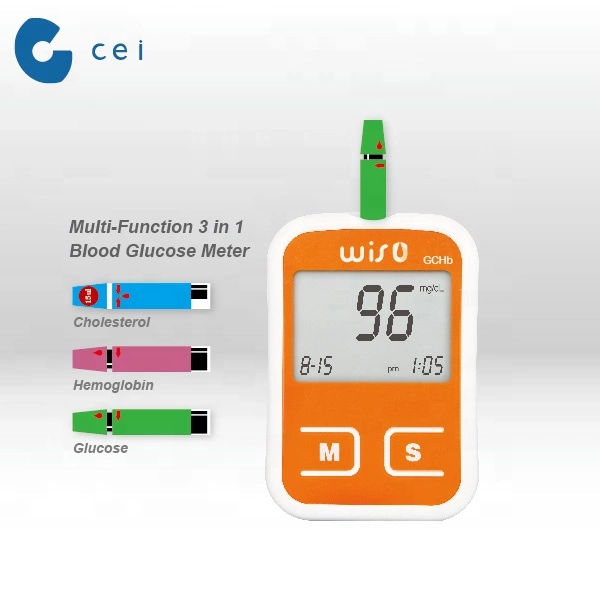 INTRODUCTION
The WIS U® GCHb is designed as a total healthcare solution. The breakthrough of multi-function diagnostic device is easy to operate and to carry on-the-go to get on with your daily life. Three functions, large LCD screen, simple interface, and automatic strip type detection make this product ideally designed for healthcare needs for a variety of users.


FEATURES
Check your blood sugar level on the go
Accurate & Reliable testing result
Quick testing result
Designed for all ages
Compact & Lightweight carrying protection pouch
Low sample volume
Siphonal strip
2 years warranty
Instruction manual in different languages
Diabetes Care
SPECIFICATION

1. Test Functions:
Blood glucose, Hemoglobin and cholesterol test system
2. Glucose Measuring Range:

20 – 600 mg/dL(1.1 – 33.3 mmol/L)

3.Hemoglobin Measuring Range:

6 – 27 mg/dL(179 – 1190 μmmol/L)

4. Cholesterol Measuring Range:

100 – 400 mg/dL(2.5 – 10.4 μmmol/L)

5. Memory:

200 memories for Glucose, 50 memories for Hemoglobin and 50 memories for Cholesterol

6. Test Time:

10 seconds for Glucose, 6 seconds for Hemoglobin and 150 seconds for Cholesterol

7. Operation Temperature:

14 – 40 °C (57.4 - 104°F)

8. Operation Humidity:

<= 85%

9. Storage Temperature:

-10 – 60 °C (14 - 140°F)

10. Storage Humidity:

<= 95%

11. Sample Volume:

>= 4μl for Glucose ; >= 2.6 for Hemoglobin ; >= 15μl for Cholesterol

12. Sample Type:

Capillary whole blood

13. Hematocrit Rage:

30 – 55%

14. Power Supply:

CR2032 x1

15. Battery Life:

Approximately 1000 tests

16. Display:

LCD display (35 x 45mm)

17. Dimension:

88 (H) x 64 (W) x 22 (D)mm

18. Weight:

59.5 g (without battery)

19. Technology Used:

Electrode-based amperornetric and Amperornetric Enzyme Electrode

20. Time & Date Display

21. Glucose Average Result:

7 / 14 / 28 days

22. Power On & Off:

Automatically

23. Strip Type:

Siphonal Strip (Capillary Action)

24. Warranty :

2 Years
Contents of ET-3211
1. Meter
2. User's Manual
3. Blood Glucose / Cholesterol / Hemoglovin Test Strips
4. Lancets
5. Puncturer (lancing Device)
6. Pouch
7. Battery
8. Check Strip
Fasting Blood Glucose / Blood Sugar Levels Chart
Normal
70 - 100 mg/dL
Early Diabetes
101 - 125 mg/dL
Diabetic
> 126 mg/dL
The Following Values are Expected Blood Glucose / Blood Sugar Levels for Non-Diabetics
Upon Waking - Fasting
70 - 99 mg/dL
After Meals
70 - 140 mg/dL
The Following Values are Targets for Diabetics
Before Meals
70 - 130 mg/dL
1 - 2 Hours after Starting a Meal
< 180 mg/dL
High-risk Groups of Dibetes
1. Age 45 or older
2. Obesity
3. Lack of exercise
4. Family history of Diabetes
5. History of giving birth overweight - weighing more than 4000 grams
6. History of CVD (Cardiovascular Disease)
7. High Blood Pressure - 140/90 or above
8. High-density lipoprotein
9. Pre-diabetes - i.e. Glucose Test Result of 100 - 125 mg/dl (refer to the level char above)
What is EasyTouch / EasyMate / WIS U System for ?
The self-testing EasyTouch / EasyMate / WIS U Monitoring System is designed for in vitro diagnostic use only (external use only). The system is for healthcare professionals and people with diabetes, hypercholesterolemia or hyperuricemia to measure glucose, cholesterol and uric acid values in fresh capillary whole blood from finger stick quantitatively. Frequent monitoring of whole blood glucose, cholesterol and uric acid is an adjunct to the care of people in that situations. Simply apply a drop of blood to the test strip,the test result will be displayed on the screen after 6 seconds for glucose, 150 seconds for cholesterol and 6 seconds for uric acid.
A simple way to check your blood on the go. The easy-to-use and intuitive designed of Easy Series Blood Testing System is suitable for all ages. Plus, the carrying case has a pappery feel. Only a small volume of your blood sample with a few senconds, checking your Blood glucose/ Uric Acid/ Hemoglobin/ Cholesterol has become easier than ever. Data from your meter can easily be saved to your PC by Bluetooth. Once results have been saved, they can easily be shared with your physician by e-mail, or viewed in chart form.
Wireless Baby Thermometer Ultrasonic Nebulizer Video Otoscope
Our Services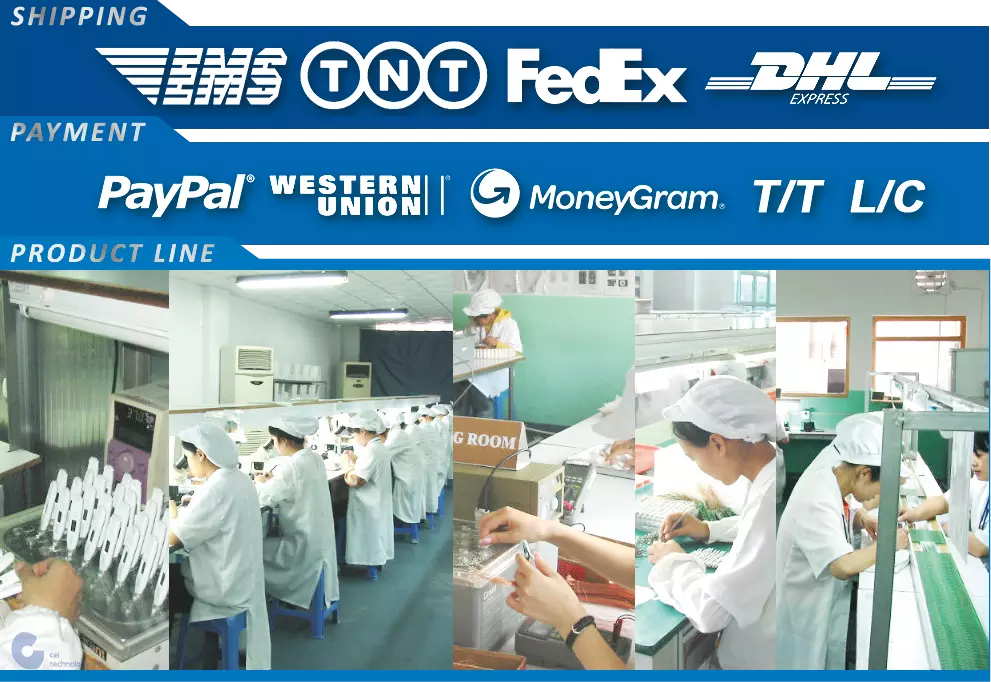 WHY CEI TECHNOLOGY INC.?
Low MOQ - Put client interests ahead of ours, thus we are willing to provide flexible range of MOQ.
Quick Reply - We attach great importance to every question our customers may concern. Promptly replying would be the first step showing the value.
Short lead time - Shortening the lead time to ensure customer obtaining goods at the first time.
Reasonable price - Our products are of high quality with reasonable prices.
OEM/ODM Service - We will do our best efforts to satisfy our client's requirement.
100% Quality Control - Strict quality control and thoroughly inspecting products are the ways we have won our partner's confidence.
High quality After-Sales Service - We believe that our every single deal starts from our client receiving products.
Company Information
BEST SERVICE | BEST QUALITY | BEST TECHNOLOGY
CEI Technology Inc. was established in February 2006 and is a leading company in healthcare, beauty, and medical; and that with our unique business model that combines marketing and R&D together, which can promise to provide newest and best technology product for you, also to ensure you and our success will continue; we will focus on developing what customers really need and want.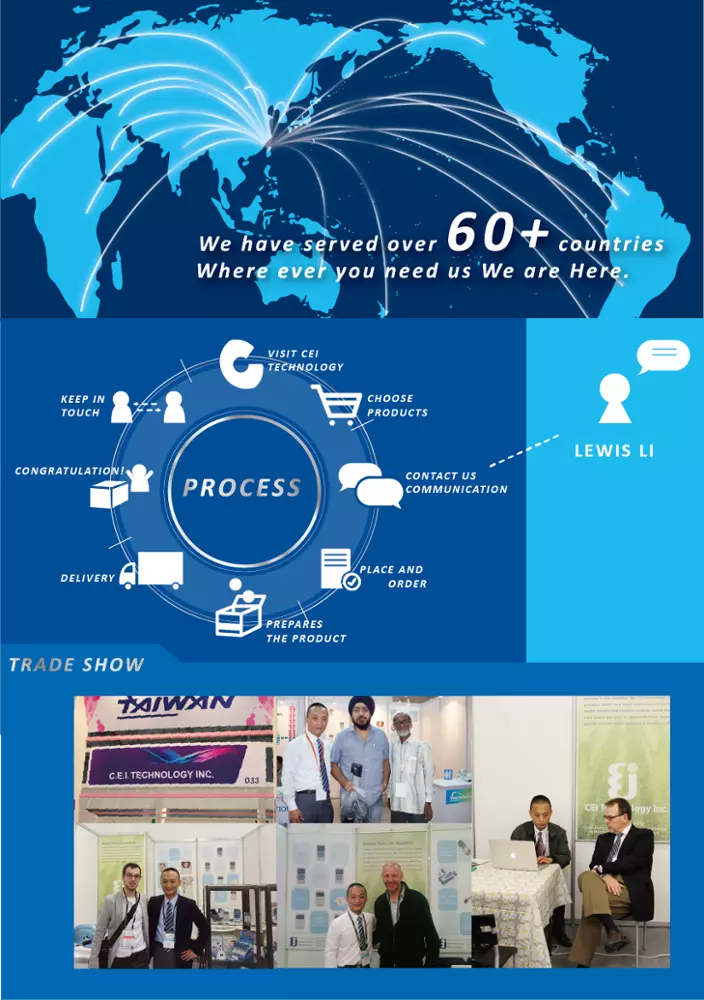 FAQ