20mm(3/4") Width 25 Pair Meters Sew-On Loop ONLY Fastener Tape for 28 Colors
DYE-TO-MATCH colors are available upon request.
Our Products are Certified according to STANDARD 100 by OEKO-TEX®,
they are completely safe and free from harmful chemicals.
Product Information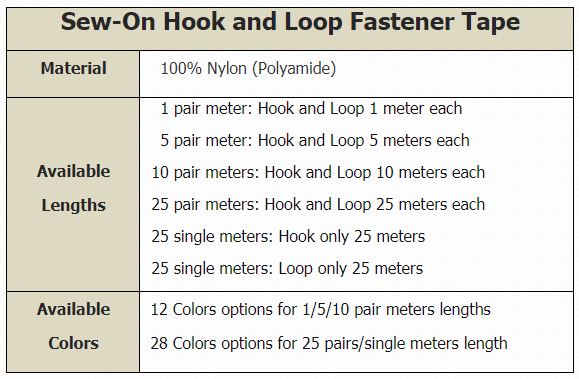 1 meter = 39.37 inch =3.28 feet
Sew-On Hook&Loop Available Lengths

Sew-on hook and loop (Velcro Function) can be used for a wide variety of sawing applications. Recommended for garment, sports, and medical industries.
1.Healthcare:
There is various use for hook and loop products in the Medical field, such as holding patient charts, securing large equipment and devices.
We offer skin color (Ivory or Beige) and navy blue hook and loop for medical usage.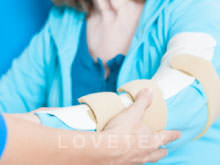 2. Recreation:
Sporting or Hiking equipment utilizes hook and loop fasteners to hold together any type of gear for any sport, in outdoors.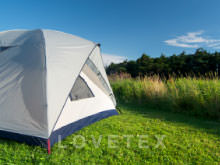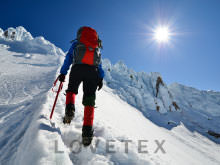 3. Apparel:
The Hook and Loop closure has been used to secure footwear and clothing as an alternative to Zippers and Buttons. It can also be used for DIY Craft of clothes, diaper, pants, Babies apparels and so on.
In addition, we offer camel color for army apparel such as army vest or boots.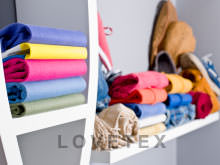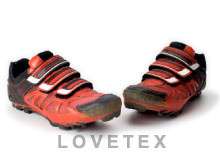 4. Home:
Hook and Loop Fasteners consist of hooks and loops which can be opened and closed frequently for repeated closure. These fasteners are commonly used in the household products.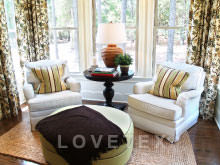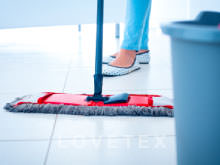 If you have problems like these:
1. Replace broken buttons or zippers with Hook and Loop Fasteners!
2. In respect to the reduction of Fasteners bond strength-Replace it with new
  pieces on products with Hook and Loop Closure ( EX. Shoes, Hat, Clothes)
3. Anything else you want to secure often fall off (EX: set up screen window). Secure with Hook & Loop!
Our products can help you deal with these problems!!!
Also, we are very glad you give us some feedback on products and prices.
Instructions
Step 1. Prepare needles, threads, and items you want to sew.
Step 2. Find a suitable size of Lovetex Hook and Loop.
Step 3. Sew Hook and Loop Tape around the edge of fabric and backstitch to secure by hands or machine.
Step 4. You can cut to any form to meet your needs, and sew about 2mm away from edges.2