Attacks of different types of viruses, worms and malware are transforming and flooded. Defense against virus attacks is actually a management issue rather than a simple selection on anti-virus product. Many enterprises find themselves constantly changing the anti-virus software, yet the situation remains unimproved- viruses cannot be removed. What's going wrong? Some are due to human operation; some are due to system vulnerability, while some issues are even beyond the capability of anti-virus software itself. Current anti-virus software can only solve known viruses. As to mutants and new types of malware, enterprises need to rely on daily monitoring ability to identify virus activity in conjunction with immediate and effective alert notification. Assist with professional ability to detect and response virus activities can resolve the viruses in an effective way. Thus, when dealing with virus issue, create an effective management mechanism is far more helpful than choosing anti-virus products. Though anti-virus software is a necessary measure, but it's certainly not the only needed.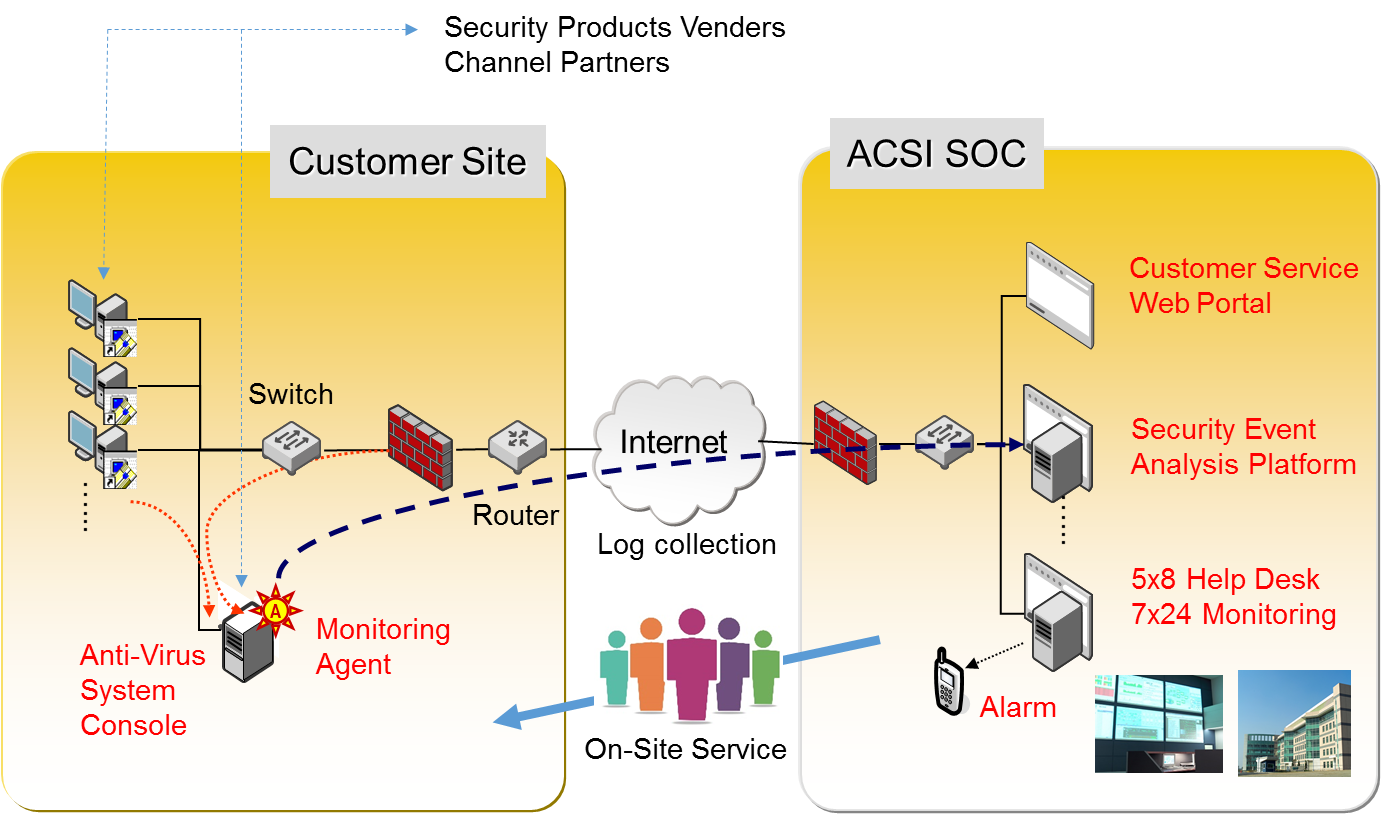 Service OverviewAcer Cyber Security Inc. (ACSI) understands the importance of preventing viruses from invading enterprises, we also are aware of the limitation on effectiveness of antivirus software; therefore, we launched "Anti-virus Monitoring & Management Service" for businesses. The professional team of ACSI SOC not only monitors virus activity, but also constantly oversees unusual message from anti-virus system, and identifies if there is any mutant viruses. ACSI SOC anti-virus
monitoring mechanism does not need to be installed on every computer of a client. It only requires installation of SAFE Agent monitoring program on the central control host of the client. By doing so, we can monitor the operation of anti-virus system and control virus activities, understand virus infection information, construct a quick response and effective notification mechanism.
If there is an indication of malware, we're able to track and identify the malware plant in zombie computer through remote or field technical support and carry out forensic process to the malware on zombie computer. This allows us to collect virus sample and help the anti-virus software suppliers to make antidote. On the other hand, the notification service provided by the "Anti-virus Monitoring & Management Service" will notify related staffs with respect to the risk level of the virus in accordance with the time limit of scheduled notification, and will complete processing within a certain time frame. Only such a comprehensive defensive net can control virus threat effectively.
Service Features
7x24 Ongoing security monitoring of virus intrusion
Alert notification of virus incident
Anti-virus monitoring service report
Technology autonomous on monitoring platform
Support major anti-virus software suppliers in the world
Simplified monitoring deployment
Centralized monitoring management platform
Cross-brands virus information integration
Exclusive service portal
Virus incident responding process optimization
Remote or field technical support service
Service Benefits
Create active management mechanism to reduce risks and losses due to virus
Raising awareness on security within organization, improving security quality continuously
Obtaining professional technical services, supporting emergency responding