Bad Breath Affects Many People Worldwide
Bad breath is not a new phenomenon because a large number of people are seeking professional advice on chronic bad breath. The issue of bad breath has recently been brought back into the spotlight again due to Coronavirus outbreak. Wearing the face masks makes them aware of their own bad breath. Honestly, almost everyone has stinky breath at some point and the condition of majority could be improved through a good brushing. Nevertheless, according to Medical News Today, chronic bad breath affects about 25 percent of populations worldwide in varying degrees.
Although bad breath does not require immediate medical attention, it has a major impact on social interaction. Some people may be used to their own odor and have no idea why others are intentionally trying to avoid close contact. On the other hand, the ones aware of their own bad breath may refrain from speaking in public, leading to a loss of confidence. Bad breath should not be taken lightly since it profoundly affects personal relationships, social interaction, and even the quality of life.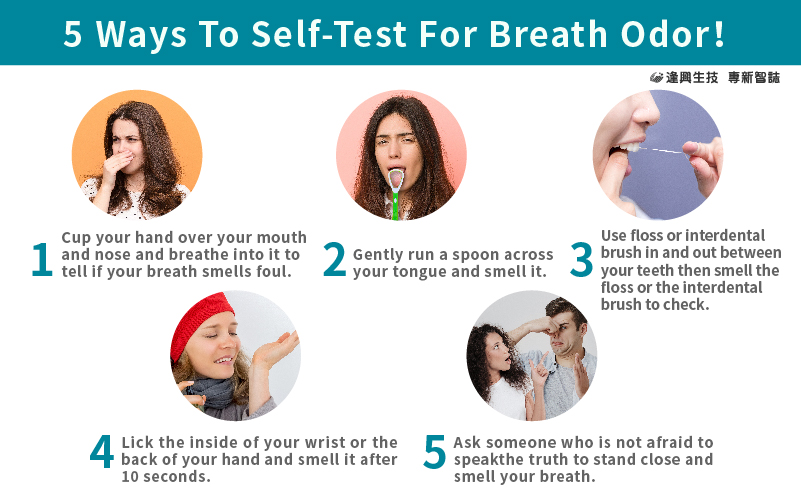 According to Odai, Emeka & Azodo, more than half actually learn about their bad breath from others including partners, friends, family members, or coworkers. Olfactory fatigue may prevent individuals from realizing the oral health problems and a few methods to determine if your breath smells are listed as the following:
Cup your hand over your mouth and nose and breathe into it to tell if your breath smells foul.
Gently run a spoon across your tongue and smell it.
Use floss or interdental brush in and out between your teeth then smell it to check.
Lick the inside of your wrist or the back of your hand and smell it after 10 seconds.
Ask someone who is not afraid to speak the truth to stand close and smell your breath.
Congratulations if you do not have bad breath and just keep up the good work. However, there is no need to be upset if you are a victim of bad breath since bad breath could be treated. Figuring out the reasons behind it together with taking the appropriate actions could easily get rid of the social handicap - bad breath and have better social relationships.