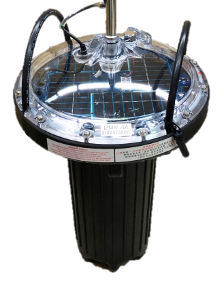 Founded in 1974, the KATO Electronics Co., Ltd. has been focusing on self-made electronic buoy-related equipment. Located at Cianjhen Fishing Port, the largest offshore fishing base in Taiwan, KATO owns the competitive advantage of better understanding of the variety of boats berthing there and their catches. As a professional manufacturer of ship equipment for large-scale fishing boats, KATO not only carries out strict production quality control on all products, but also embodies the concept of sustainability of marine ecological resources and continues to develop green products that are more friendly to the marine ecology and are more environmentally friendly.
The "KATO satellite buoy", designed for the operational needs of seine fishing fleets and long-line fishing vessels, is installed with the latest satellite terminals and high-quality fish finder modules to provide fast, high-volume, and low-latency data through the maritime satellite network. The fish-finding data is then received by the satellite receiving system independently created by KATO itself or the Fleet Broadband network. Equipped with built-in solar panel, rechargeable gel battery, temperature sensor, powerful LED flashlight, magnetic valve switch, and an alarm device for entering and leaving water (an exclusive design in the world), KATO satellite buoy helps the fishing fleets to improve their operating efficiency and productivity.
The "Global Satellite Positioning (GPS) Wireless Buoy System" can be used to locate the main and auxiliary ropes of long-line fishing and the fishing gears of stationary fishing net. Among them, the KTR-50 buoy provides full-time automatic reporting function and can receive data within a distance up to 50 nautical miles or more. As soon as the KTR-50 buoy is positioned, it can send its own position and related information back to the mother ship. When the GPS buoy signal is received by the NSR-K50 receiving terminal, the important information will be displayed immediately on the dedicated chart system.
In response to the world's product and energy-saving trends, KATO has recently re-designed its "solar AIS electronic buoy" by using the traditional electronic buoy technology and improving its power management method and its floating body, featuring such characteristics as small size, light weight, strong structure, and easy placement. The solar AIS electronic buoy is compatible with the navigation equipment on the fishing boat, thus effectively improving its convenience and efficiency.