Medical Taiwan
On 16
th
October 2020, Taiwantrade, the official B2B portal of Taiwan, aired its first Health & Medical livestream at the
Medical Taiwan
trade show. Utilizing livestream technology, Taiwantrade aims to provide global buyers with an invaluable look into the country's latest advancements in medical tech.
At a time when health is on everyone's minds, Taiwantrade is proud to represent some of the country's most innovative medical tech companies and provide buyers with access to their high quality products. Taiwantrade's health and medical products saw a year-on-year growth of 686% since the start of the pandemic.
The Health & Medical Livestream was testament to the efforts of Taiwantrade in continuing to serve the global B2B community through virtual means. It was a welcome reminder that, with the aid of technology, life can - and will - go on as normal for buyers around the world. Taiwantrade plans on rolling out similar livestream showcases for different industries and verticals.
For those who would like to test drive the experience or re-live the moment, please check out the showcase on the exclusive Taiwantrade
YouTube
.
As of November 10, over 1,600 views have been accumulated for this highly anticipated event.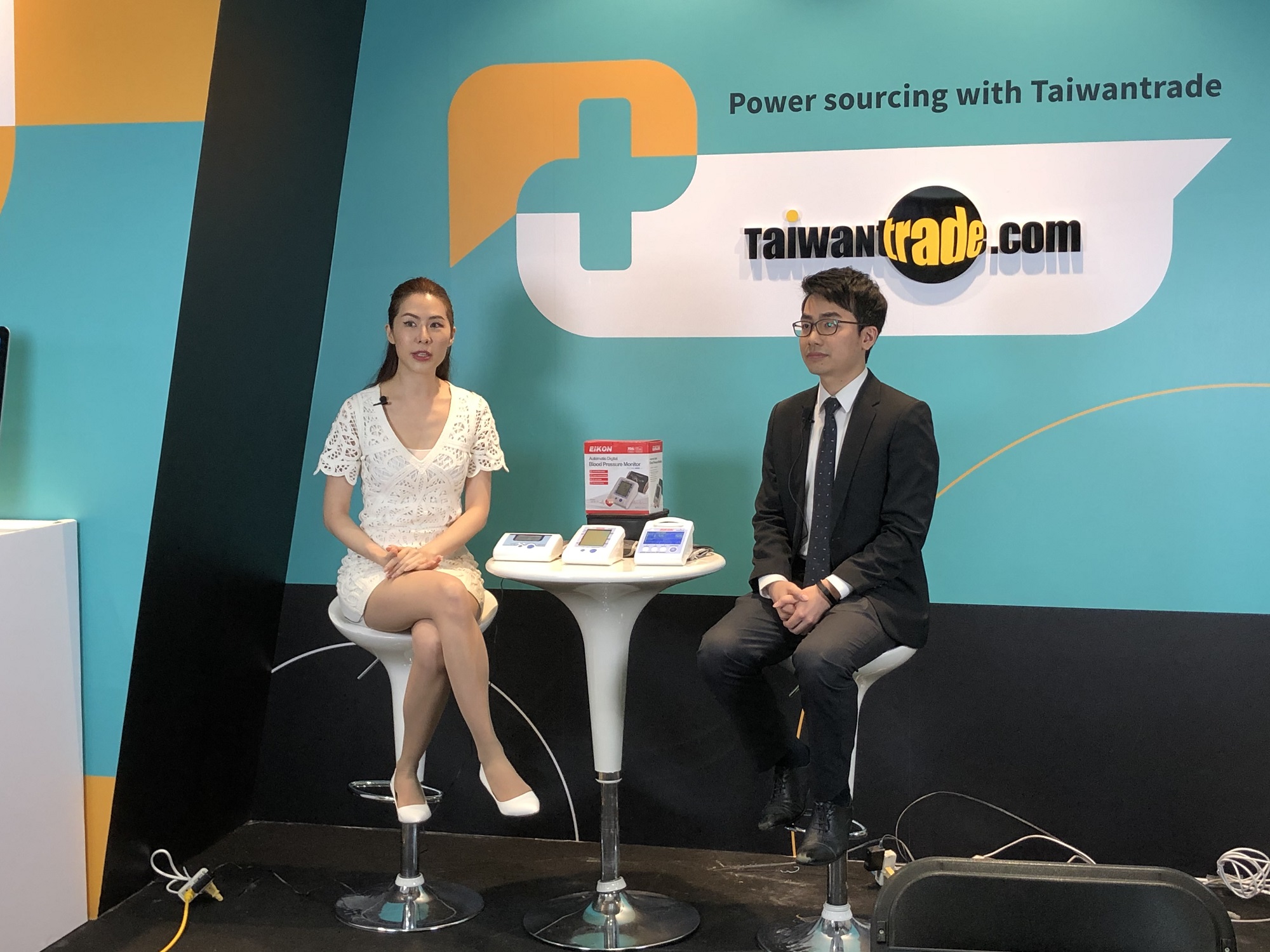 The Showcase
During the event, Taiwantrade's host, Jennifer Sung, caught up with representatives from four quality Taiwanese health tech companies. They were keen to illustrate the advantages of their products and their respective company's values, also providing useful product demos throughout the show.
First up was Taoyuan City-based
CEI Technology Inc.
, a company that believes the ultimate goal of medicine isn't just to prolong life, but to make it better
.
The company produces a wide variety of health and beauty goods, including food supplements and veterinary tech. Company representative Linda Lai brought along a
two-in-one blood glucose and ketone monitor
, which requires only the smallest of samples to process detailed results in under ten seconds. She also explained their
digital otoscope
(an ear canal camera). The 0.4mm HD camera greatly minimizes invasiveness and, unlike similar products on the market, can be used on people and animals alike thanks to its size and attachable probe.
Jeffrey Chu represented
Eikon Healthcare
, a company with over twenty years of experience in the blood pressure monitoring market. Mr. Chu proudly explained that Eikon's products are all made in Taiwan. Of the various monitors demonstrated, the most eye-catching was surely the
Model HD-200+
, a smart color blood pressure monitor. In development for two years, the advanced device boasts a full-color, high-resolution display that Eikon claims is a world-exclusive. Able to store and recall measurements for three months, it can sort data into a graph for use as a blood pressure diary. As a result, it's well-suited not just for the home, but for use in hospitals and healthcare centres.
Soyal Tech
, a global leader in day-to-day security and access control, was up next. With the onset of the COVID-19 pandemic, Representative Arielle Shih noted that the company was eager to heighten its efforts on health tech. Soyal has been working closely with elderly at-home care programs so as to free up beds in hospitals. Aside from products like the
Infrared Touchless Sensor Button
, which enables contactless controls for functions like toilet flushing and door access, the most significant development in combating COVID-19 is a cloud based
IoT Nursing Care Monitoring Solution
. The system combines variables like life detection, intravenous flow measurement and ward temperature measurement, enabling greater efficiency in hospitals.
Visgeneer Inc.
closed the show. With over fifteen years experience in the field, the company are resident experts in blood analysis monitoring. Representative Suen Li explained how production began in earnest with blood pressure monitors, before snowballing into several other types of blood analysis. Ms. Li brought with her a number of these products, including the
eBketone reader
, which requires a mere 0.5uL of blood to provide accurate ketone level readings, in addition to their
eBuricacid
(blood uric acid reader) and
eB-Tchol
(blood cholesterol monitoring system). The team is currently working on blood lactate and triglycerides testing.
Moving Forward
The success of the Medical Taiwan livestream points to one of the country's most valued exports - health tech. For decades, Taiwanese companies have been at the forefront of home and hospital health monitoring and tech solutions, and the industry looks set to continue its unparalleled expansion.
The products featured on the Health & Medical livestream are all available on
Taiwantrade
, so be sure to check them out. Viewers can look forward to more of Taiwantrade's livestreams from upcoming events. In the meantime, rewatch the livestream
here
.
Jocelyn (jocelyn7@taitra.org.tw)