Product Certification
NSF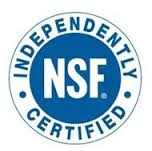 Certification No.:

NSF

Certification Start Time:

2016-03-03

Certification End Time:

2016-03-03

Certification description:

National Sanitary Foundation Around the world, NSF International represents technical excellence in public health and safety, and the NSF mark is a symbol of this expertise. The trusted NSF mark can be found on millions of consumer, commercial and industrial products, including bottled water, dietary supplements, food equipment, home water treatment products, home appliances, plumbing and faucets, and even pool and spa components. This mark is your assurance that the product has been tested by one of the most respected independent certification companies in existence today — NSF International. We focus on ensuring public health, safety and environmental quality. Options for indicating a product's certification include the use of just the NSF mark (a circle containing the letters NSF), the letters NSF followed by a series of numbers or letters to indicate a product standard, or a foil sticker with the NSF mark and several numbers/letters that can be traced to a particular manufacturer. In most cases the manufacturer's name or identifying mark is present on the product along with the product name or model designation.